Forgot to pay the fee? Moscow paid parking spot cracks open, swallows 2 cars (PHOTOS, VIDEO)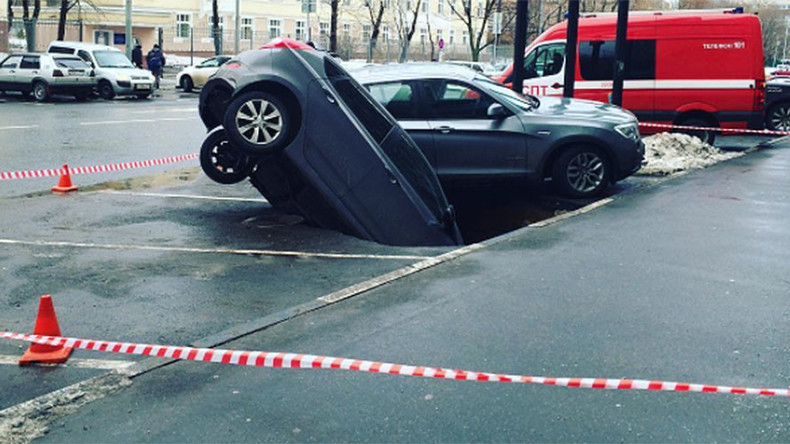 Moscow authorities are trying to determine what caused a rather deep crevice to open up in a parking lot in the capital's northeast. It swallowed two cars! Social media users jokingly suggested the drivers overlooked the parking fee.
The incident happened on Wednesday after two unsuspecting drivers parked their Hyundai and BMW on a spot that would soon turn into a gaping hole.
The Hyundai was unlucky and literally took a dive into the gap. It had to be pulled out with a crane and a tow truck, while the BMW teetered on the edge of the crater.
The surface of the hole was 15 square meters (nearly 161 square feet) and was 3 meters deep, TASS reported.
The most disappointing aspect for the drivers was that they had used paid parking, according to local residents, who shared their amazement on social media.
"A paid parking lot in front of the office - fees have been introduced just recently," a caption to one of the photos from the scene says.
"Must have forgotten to pay," one social media user suggested.
Local authorities said the drivers won't have to pay for repairs, according to RIA Novosti.
Road traffic safety inspectors have warned car owners about the possibility of waterlogging, and that the current thaw in the city may lead to cracks opening in the ground.
Daily temperatures in Moscow have been above zero since January 28. Due to sleet on the roads there have been a number of accidents, including a sinkhole on a major highway that damaged as many as 14 cars.
You can share this story on social media: