Syrian forces fend off large-scale jihadist attack in Hama countryside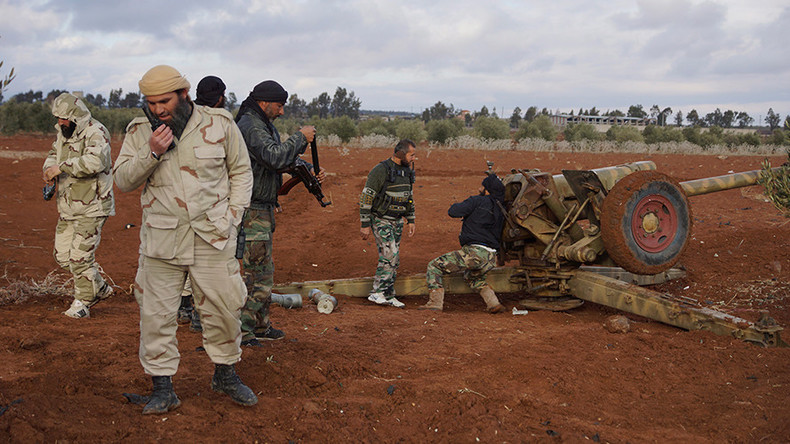 The Syrian armed forces and volunteer units aided by Russian air power have managed to drive back an extremist onslaught in the northern Hama province, a day after Al-Nusra-aligned groups announced a full-scale operation to regain weakening positions.
The terrorist offensive started with an attempt on Monday to storm the Hama governorate's northern countryside via the town of Morek located in the Suran subdistrict. According to an RT Arabic correspondent who spoke with local commander in the area the terrorists used "gas canisters" to try and penetrate the army's defenses.
"In their attacks Al Nusra fighters widely used gas canister with yellow-colored substance," he told RT. "But we managed to lure them into a trap where we destroyed all the fighters," the commander said, adding that the army also wiped out three cars and a bulldozer used by the extremists in their attacks on security positions.
Fierce fighting between Syrian government forces and local militias have managed to break an Al-Nusra and its affiliates' offensive. Affiliates include the Syrian rebel groups known as Tajammu al-Izzah and Jaish al-Fatah, whose aim was to seize the northern and western suburbs of Hama and secure the groups' grip of Idlib governorate.
Syria's SANA news agency's sources said that the successful operation resulted in the destruction of Al Nusra leadership headquarters in Morek in addition to two other command posts in the region. At least 37 jihadists were reportedly killed.
Speaking to RT Arabic on the ground, another commander of the Syrian forces in the area praised the army's achievement in driving the terrorist forces back.
"By implementing a plan developed with the support and operation of the Russian and Syrian aircraft, we managed to surround the armed terrorist groups and destroy dozens of militants, including 15 vehicles with heavy DShK machine guns, five armored vehicles and two armored cars laden with bombs," he told RT.
After fending off the Al-Nusra assault, the army and the volunteer units continued their counter-offense in the region. Ten positions and a number of vehicles and rocket launching pads belonging to Jaish al-Fatah terrorists were destroyed during army operations in the countryside of Idlib and Hama provinces. According to SANA, over 30 al-Nusra and a number of Fursan al-Haq extremist fighters were killed in "intensive operations" by pro-government forces.
You can share this story on social media: