You thought New York snowboarding was cool? Here's how Russians do cool (VIDEO)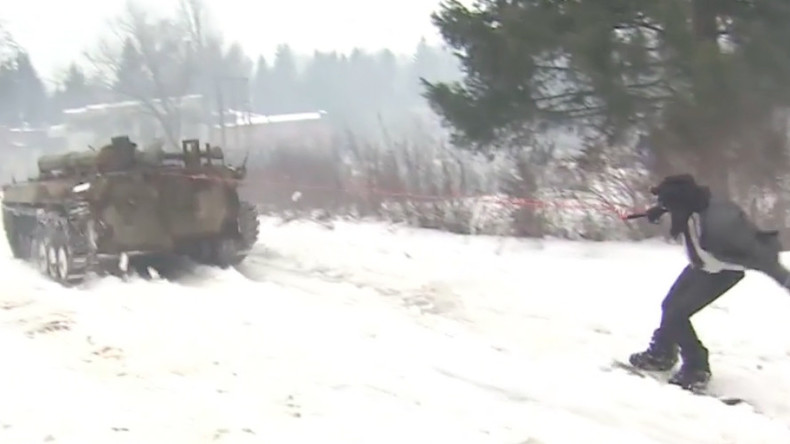 With heavy snowfalls not exactly a big deal in the Moscow region and forcing no lockdowns, Russian extreme sport lovers have to find other hardcore ways to set their pulse racing – like a military vehicle…
READ MORE: YouTuber snowboards through NYC despite police order, the result is magic (VIDEO)
"My friends and I decided we're done with our office routine and office deadlines and arranged a snowboard ride with an infantry fighting vehicle [IFV]," blogger Pavel Makarov, who organized the event, told RT's Ruptly news agency.
Pavel and his mates, dressed in office suits, needed just a bit of a warm-up. Hiring a military vehicle didn't turn out to be a problem. There is a private company that has an IFV to rent out for special events – yes, you can do that in Russia too!
The office team went to a shooting range in the Moscow region, which came equipped with burning vehicles, "impassable roads and lots of dirt," Pavel said.
And while the snow-mixed-with-dirt daredevils were enjoying themselves being pulled by the IFV, the only unimpressed person seemed to be the guy atop the monster vehicle.
READ MORE: Russian free-rider sets world record with active Kamchatka volcano jump (VIDEO)
You can share this story on social media: