Israel missile program also spied on by NSA, GCHQ under Operation Anarchist – report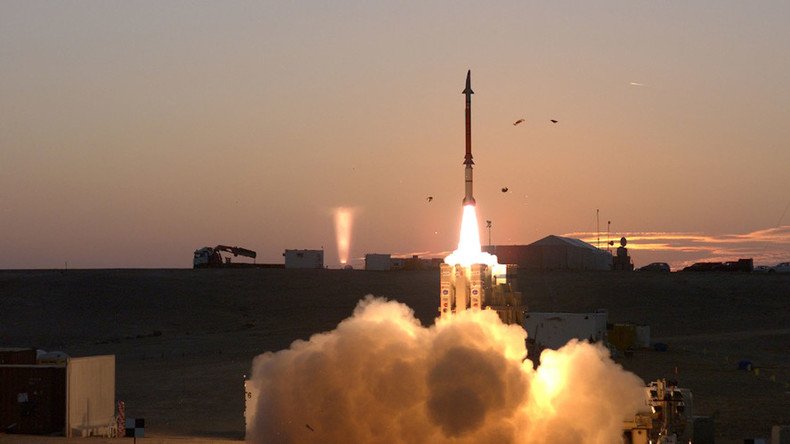 A spy operation conducted by the NSA and Britain's GCHQ tapped into Israel's missile interception program, according to local media. Earlier the same operation was found to have hacked into videos from Israeli drones and fighter jets.
The joint US-UK operation, referred to as 'Anarchist,' gathered information on Israel's Black Sparrow missile project, part of its Arrow missile interception program, according to Yedioth Ahronoth newspaper.
The Black Sparrow missile is air-launched from a plane, usually an F-15 fighter jet, before accelerating away to become a target for anti-missile systems to track and intercept.
Surveillance of the missile, which has been used in tests of the Arrow and Magic Wand defense system, was a secondary task of Anarchist, and was code-named 'Runway', according to the newspaper.
It remains unclear how the NSA and GCHQ obtained the data, or whether it was taken directly from intercepted transmissions during Black Sparrow flights.
Black Sparrow is produced by Israel's Rafael Advanced Defense Systems, in cooperation with US defense firm Raytheon.
It comes just three days after it was revealed that the two agencies had been spying on Israel's air force operations for at least 18 years – information that was reportedly gleaned from documents made public by National Security Agency (NSA) whistleblower Edward Snowden.
Over the course of those years, the US and UK managed to crack the Israel Defense Forces' (IDF) special encryption system for communication between fighter jets, drones and army bases. The two nations reportedly used that access to keep tabs on IDF operations in Gaza, watch for a possible Israeli strike on Iran, and monitor the drone technology that Israel exports.
An Israeli security source described the breach as "an earthquake...the worst leak in the history of Israeli intelligence," the Times of Israel reported.
The tracking was completed from the UK's Royal Air Force installation in the Troodos Mountains, near Mount Olympus, on the island of Cyprus, according to the Intercept.
A 2008 GCHQ report called the acquired access into Israeli intelligence "indispensable for maintaining an understanding of Israeli military training and operations and thus an insight to possible future developments in the region," adding that it was "critical" in "times of crisis."
You can share this story on social media: