'Long live Spain': Thousands call for unity, protest Catalan secession in Barcelona
Thousands of pro-unity demonstrators came out in Barcelona on Sunday to oppose the secessionist push by Catalonia's newly-headed government. It comes as PM Rajoy, who is struggling to form a majority government, appears anxious to talk to the Catalans.
Police estimate that 3,500 thousand people showed up on Sunday in St. Jaume Square, which is located in the heart of Catalonia's capital, Barcelona.
Demonstrators marched under banners bearing slogans such as: "The independence process robs us of our identity," "Long live Spain, long live Catalonia," "No to independence," "United Europe will never be defeated," and "We have voted, we failed."
Sunday's protest was organized by the Catalan Civil Society (CCS), which opposes the initiative to separate from Spain and works to improve relations between Spain and the EU.
The demonstrations were attended by Catalan citizens, as well as other Spaniards, and people from other EU countries.
READ MORE: New parties win big in Spain election, ruling conservatives lose majority
Rafael Arenas, president of the CCS, gave a speech at the rally, stressing that it was a bad decision "to add a Spanish national implosion" to the EU's current list of problems.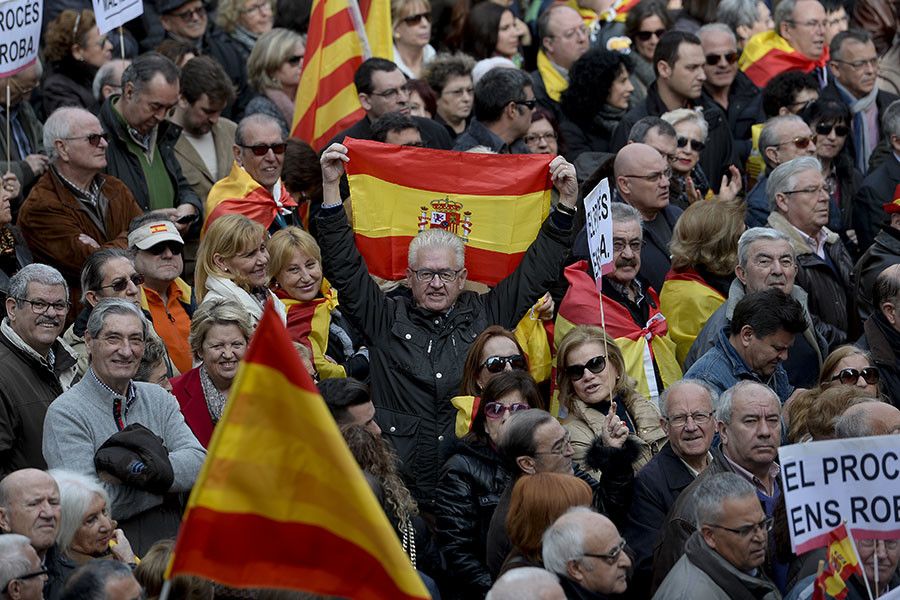 Moreover, Josep Enric Millo, a spokesperson for the People's Party (PP) of Catalonia, asked Catalonian President Carles Puigdemont to "remove earplugs and listen to the voice of 52% of Catalans who do not want to break."
Catalonia's parliament selected Carles Puigdemont as its new leader in mid-January. He has been described as being even more pro-separatist than his predecessor, Artus Mas. One of his main goals is to push ahead with the move to secede from Spain by 2017.
"We begin an extremely important process, unparalleled in our recent history, to create the Catalonia that we want, to collectively build a new country," Puigdemont told the Catalan parliament on January 10.
READ MORE: Catalonia parliament elects new 'separatist' leader
The Catalan parliament passed a resolution to kick off the process of seceding from Spain back in November, with 72 votes out of 135 in favor.
The secessionists' 18-month roadmap to independence envisages Catalonia creating its own constitution and state institutions, such as a central bank, judicial system, and army.
The autonomous Spanish region has a population of 7.5 million people and is responsible for nearly a fifth of Spain's economic output. Local Catalan residents have been dissatisfied with their taxes being used by Madrid to support poorer areas of the country.
At the same time, Spain's government has been in a political deadlock since an election in December, when acting Prime Minister Mariano Rajoy's ruling People's Party (PP) won 123 seats in the national parliament but lost an absolute majority to a left-wing block. The left-wingers, including the Socialist Party and anti-austerity Podemos, are now mulling a "progressive" government if they can put together a majority coalition, with discussions planned in Madrid. The PP, on the other hand, is just short of a parliamentary majority, but is having trouble attracting other parties, many of which openly oppose another Rajoy-led term.
Spain's leader since 2011, Rajoy has been adamant in his vow to block any Catalan move towards independence to "defend the sovereignty" and "preserve democracy and all over Spain." The Spanish government has also unwaveringly ruled out the possibility of Catalan independence in the past. Rajoy has labeled Catalonia's moves towards secession "illegal," while EU officials have warned Catalonia that it would have to leave the bloc if it broke away from Spain.
However, a recent prank call targeting Rajoy, pulled off by a Catalan radio show, revealed that the PP leader might be quite anxious to "start talking" with the Catalonian leadership. A pair of Radio Flaixbak presenters impersonating one of the Catalan president's staff and Puigdemont's himself managed to get through to the PM on January 20 and ask him about arranging a meeting.
The tricksters recorded Rajoy saying that he would welcome a tête-à-tête "within 24 to 48 hours," as his diary just happened to be "pretty empty" at the time.
"I suppose we need to start talking now," Rajoy told the fake Puigdemont, as quoted by the Guardian.
You can share this story on social media: