Catalonia parliament elects new 'separatist' leader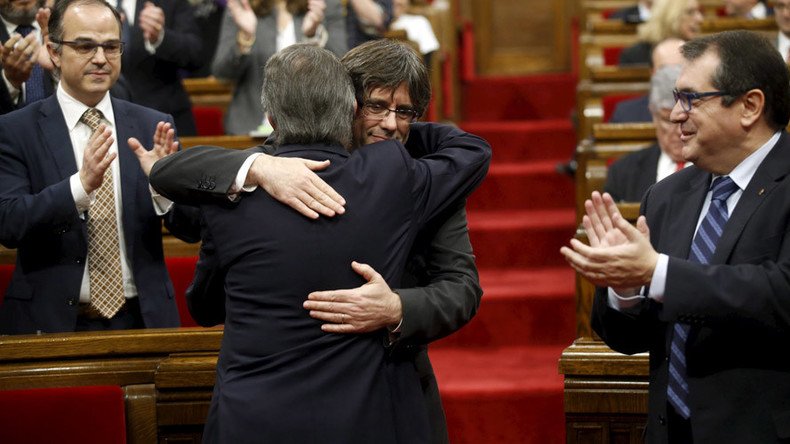 The Catalan parliament has sworn in Carles Puigdemont as the president of Catalonia. He will lead the region in its push towards independence from Spain by 2017.
"We begin an extremely important process, unparalleled in our recent history, to create the Catalonia that we want, to collectively build a new country," Puigdemont told the Catalan parliament, vowing to continue with his predecessor Artur Mas' initiative to pull the region into independence.
Puigdemont's candidacy was backed by 70 lawmakers while 63 voted against, with two abstentions. The parliament has been in deadlock since Spain's ruling party won most of the seats in September elections but failed to obtain a majority. The Catalan parties had to agree on a new leader before Monday to avoid holding new regional elections.
In a "last minute change", Catalonia's former president Artus Mas agreed to step down on Saturday and not seek reelection as pro-independence 'Together for Yes' coalition representative. The new candidate was backed by the anti-capitalist Popular Unity Candidacy (CUP) party, whose 10 seats has allowed them to secure a majority in the 135-seat chamber.
The Catalan 18-month roadmap to independence suggests the approval of its own constitution and the building of necessary institutions, such as a central bank, judicial system and army.
Meanwhile Spanish Prime Minister Mariano Rajoy reiterated on Sunday that he would block any Catalan move towards independence to "defend the sovereignty" and "preserve democracy and all over Spain."
Catalonia has a population of 7.5 million people and represents nearly a fifth of Spain's economic output. The local population has been dissatisfied with their taxes being used by Madrid to support poorer areas of the country.
The Spanish government in Madrid has adamantly ruled out the possibility of Catalan independence. The Spanish PM has said that Catalonia's secession would be illegal, while EU officials have warned Catalonia that it would have to leave the bloc if it seceded.
You can share this story on social media: