German police should have right to shoot refugees illegally crossing border – AfD leader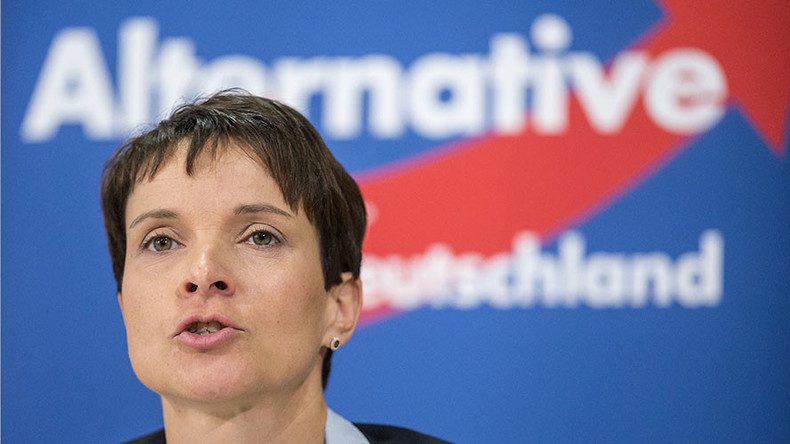 The leader of "Alternative for Germany" (AfD) – a German Eurosceptic, anti-migration party – has said that police should have the right to use firearms, if necessary, to prevent migrants and refugees from crossing the German border illegally.
Frauke Petry, one of AfD's leaders, has called for a high fence to be built on Germany's border with Austria, saying that police must prevent illegal migrants and refugees from breaching it by all possible means – including the use of fire arms.
"No policeman wants to fire on a refugee, and I don't want that either. But as a last resort, there should be recourse to firearms," Petry said in an interview with Mannheimer Morgen, a German newspaper.
The proposal was supported by another prominent AfD member, Beatrix von Storch, who wrote on her Facebook page that, according to German law, anyone who violates the German border while ignoring a border guard's order to stop is an attacker.
"We must defend us from the attacks," Storch wrote.
The party came under fire following the statement. German Vice-Chancellor Sigmar Gabriel told "Bild am Sonntag" that AfD "belongs in the intelligence services report and not on TV."
"It's unbelievable that such parties are allowed to send out their slogans on public broadcasters," he said.
AfD's proposal that migrants and refugees illegally crossing the German border be shot as a last resort was also criticized by police.
"Whoever wants to deploy such methods clearly wants to suspend the rule of law," German police union GdP Jörg Radek, said, as cited by Deutsche Welle.
"We have already seen that over the course of German history, and we don't ever want to go down that road again," he added, referring to East Germany's policy of shooting people trying to flee over the Berlin wall during the Cold War.
"Alternative for Germany" was founded in 2013 as a Eurosceptic party advocating Germany's exit from the Eurozone. The party failed to get into the Bundestag in the 2013 parliamentary elections, but gained two seats in the European Parliament a year later. Since the eruption of the refugee crisis in Europe, the party has emphasized an anti-migration platform.
About a million migrants and refugees entered Germany last year, which has led to the rise of various right and far-right movements. The country has witnessed a growing number of anti-migration rallies, as well as attacks on refugee facilities, in recent months.
You can share this story on social media: