Germany accused of 'paying' African countries to take back 'foreign' asylum seekers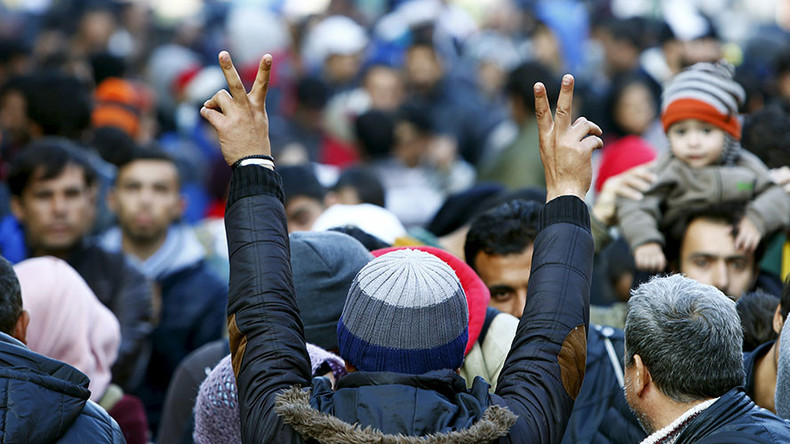 Germany has been giving "financial incentives" to the embassies of some African countries to accept asylum seekers from third states who have been rejected by Germany without the consent of the migrants, a refugee aid organization claims.
Berlin has been adding specific "Readmission Agreements" to development aid accords with African countries in order to deport asylum seekers to these countries – regardless of their actual country of origin, "Pro Azyl" (For Asylum), a German refugee rights organization, alleges.
"These agreements commit the African countries to readmitting their own citizens who have had asylum turned down by Germany, but it also allows them to readmit rejected asylum seekers from other countries, who travelled through these transit states," Max Pichl, a member of Pro Azyl, told The Local.
According to the relief organization's data, if German authorities are unable to deport a rejected asylum seeker because they lack sufficient information and documents to determine or confirm their country of origin, they address a third nation's embassy and pay for documentation to be issued "confirming" such a person's nationality as their citizen so that the migrant can eventually be deported to that country.
"It is difficult to say how many people it affects. The cases only come to light on an individual basis when someone who has been sent back to Africa reports it," Pichl told The Local, adding that there is "a very long list of countries with whom Germany has such agreements," according to which "countries are obliged to take back migrants, but nothing more is specified."
At the same time, the data provided by the German Federal Office for Migration (BAMF), which is specifically responsible for deporting rejected asylum seekers, suggests that Germany has 13 such agreements, with only two countries from the list – Morocco and Algeria – actually being African.
Apart from Morocco and Algeria, the BAMF's list includes Albania, Syria, Kosovo, Serbia, and Macedonia.
BAMF has not revealed how many people have been deported under these agreements, stating only that "these arrangements make it possible for foreigners to return or be returned via the contracting Member State without the need of a transit visa."
Additional payments for 'successful identification'
Similar issues were reported by German weekly Der Freitag on Tuesday, claiming that the rejected refugees whose country of origin cannot be determined are sent to meetings with the employees of some of the countries they could be potentially legally be sent back to.
In 2014, German federal authorities ordered 720 "stateless" asylum seekers to attend 50 such meetings with representatives from 18 different African countries, the weekly claims, adding that "an indefinite number of such meetings organized by the regional authorities" had taken place during the same period.
Germany allegedly pays the embassies for these "refugee hearings." According to Der Freitag, Berlin also gives them additional money if they subsequently issue relevant documentation for the rejected asylum seekers – so-called emergency travel certificates – which allow German authorities to deport a person "within days."
The meetings with the embassy employees take "several minutes," and are therefore insufficient to determine a person's actual country of origin, Der Freitag claims, implying that they are only a formality used by Germany to deport unwanted asylum seekers.
At the same time, some countries are said to be rewarded more generously for their efforts than the others. Benin, which issues identification documents for "stateless" refugees in three quarters of the cases, receives €300 for every such "identification," while Nigeria, which "accepts" only one in two, gets €250, according to Der Freitag.
The weekly wonders whether giving asylum seekers identification documents without their consent and against their will is a regular practice, citing an example of a man who claimed he was from Sierra Leone, but was eventually given Nigerian identification documents.
In the meantime, payments to the Nigerian embassy have been suspended "to extract a bit of the smell of corruption," the paper adds, citing Ulla Jelpke, a member of the German Die Linke (the Left Party).
In view of the unending refugee inflow, German public opinion, as well as the sentiments of the country's political establishment, has gradually turned against the German government's open arms refugee policy.
According to one recent poll, 40% of Germans want German Chancellor Angela Merkel to resign over her refugee policy, while small arms sales in the country skyrocketed after a wave of New Year's Eve assaults in the German city of Cologne.
At the same time, the German Chancellor's Bavarian allies are threatening her with a lawsuit over her migration policy, and a member of the European Parliament from Alternative for Germany (AfD), a German anti-immigration Eurosceptic party, has even suggested that she should flee to South America in exile to escape retribution for allowing over a million immigrants to enter Germany.
Facing intense public pressure, the German government announced another package of tougher asylum regulations on Friday that included expedited deportations and a delay in family reunifications.
German authorities have previously had to defend their questionable policy of requesting foreign embassies to "conduct nationality checks." According to an official reply to a parliamentary question from Die Linke (the Left party) in 2011, the government regarded such procedures as "often the only possibility to establish the nationality of the person to be deported."
You can share this story on social media: