Stockholm pogrom: Crowd of masked men hunt and beat up non-Swedes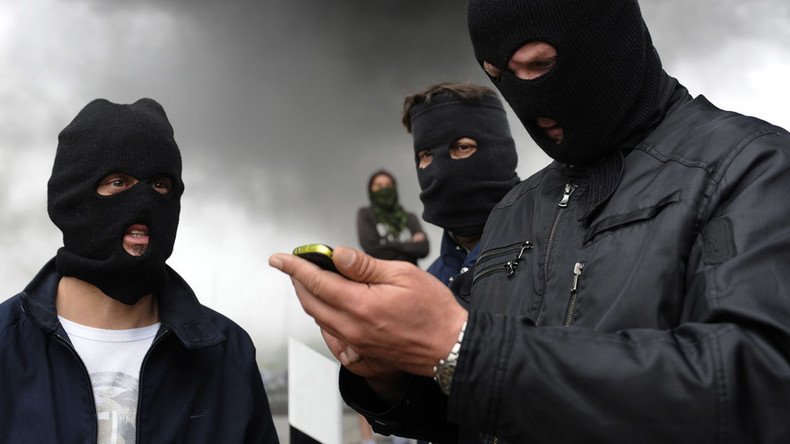 Dozens of masked man went on an anti-immigrant rampage in Stockholm in an apparent retaliation for the stabbing death of a young Swedish woman at a refugee center earlier this week, local media reported.
The crowd of some 40 to 50 people went on a violent spree on Friday night at around 9 p.m. local time in and around the Swedish capital's main railroad station, according to the Aftonbladet daily. They were beating up anyone who didn't look like ethnic Swede. The attackers were wearing black balaclavas and armbands, the video obtained by the tabloid showed.
"They came from Drottninggatan [Stockholm's main shopping street] and walked down toward the square and began to turn on immigrants," a witness is cited by The Local. "I saw maybe three people who got beaten. I was quite scared so I left."
The rampage followed a rally of some 200 people, who protested the presence of refugees in the North European country, reports Aftonbladet. They were handing out leaflets saying "Enough now".
"They were scattering leaflets which had the intention to incite people to carry out crimes," Stockholm police confirmed in a statement on its website.
The leaflets accused police of failing to deal with immigrants-related crimes – particularly those committed by gangs of foreign youths – or protect Swedish society.
"We are forced to endure countless crimes while the criminals always go with some degree of impunity by claiming that they are younger than 15," the leaflet said. "This irresponsible stance is rooted among our spineless politicians, in our weak justice system and in our lying media and no longer surprising."
"But we refuse to accept the destruction of our once to safe society," it added. "If the Swedish streets are no longer safe for Swedish men and women, it is our duty to take action."
The call was apparently referring to the death of Alexandra Mehzer, a 22-year-old aid worker, who was stabbed to death on Monday in a center for underage unaccompanied refugees in southern Sweden. A 15-year-old asylum-seeker born in Nigeria is suspected of the killing.
The leaflets reportedly accused police of failing to deal with immigrants-related crimes on protect the Swedish society.
READ MORE: Police officers flee angry mob in Swedish refugee center through back door
"But we refuse to accept the repeated assaults and harassment against Swedish women," the leaflets said as cited by the Daily Mail. "We refuse to accept the destruction of our once to safe society. When our political leadership and police show more sympathy for murderers than for their victims, there are no longer any excuses to let it happen without protest."
Police made several arrests, according to Aftonbladet. The attacks are linked to football gangs and far-right groups. Still city authorities have not yet confirmed any immigrants had been assaulted.
The Swedish Resistance Movement, a neo-Nazi group, claimed the attack. In a statement issued after the incident they said they "cleaned up criminal immigrants from North Africa that are housed in the area around the Central Station".
European countries are gripped by a wave of rising xenophobia as hundreds of thousands of refugees from the Middle East and North Africa flooded Europe. The EU is split on how to deal with the crisis. Advocates of keeping the doors open are facing increasingly strong opposition as public opinions are swayed against them by the cost of hosting the immigrants and social problems like crimes committed by the newcomers and their failure to adopt liberal European rules.
In some countries more violent anti-immigration activists have been targeting houses meant to become refugee centers with arson attacks, but cases of direct violence between refugees and local residents like the one in Stockholm are relatively rare.
You can share this story on social media: