First Spanish royal to stand trial since restoration as court won't drop Princess Christina case
Published time: 29 Jan, 2016 18:40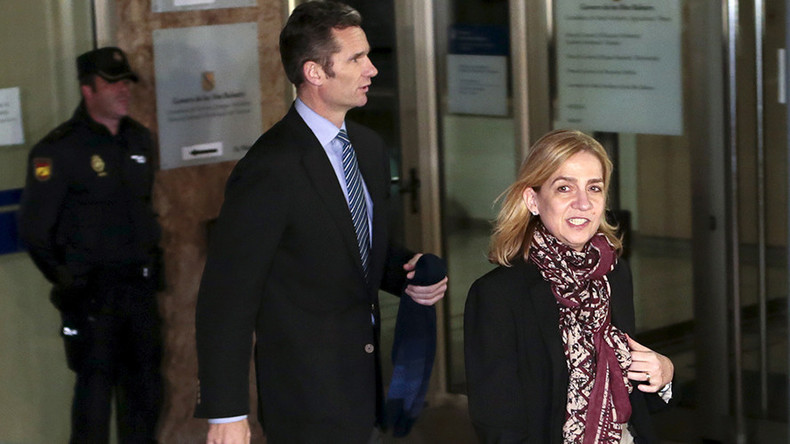 A Spanish court has refused to exempt Princess Christina, sister of the ruling Spanish monarch, from standing trial for fraud, court officials said on Friday. If convicted, she may face up to 8 years in jail.
The 50-year-old princess, who is sixth in line to the Spanish throne, is accused of fraud and tax evasion. The lawsuit alleges that Christina was complicit in a money laundering scheme hatched by her husband Iñaki Urdangarin, a former Olympic medalist in handball.
Urdangarin faces more serious charges. He is accused of exploiting his title as Duke of Palma to win public contracts and then overcharging two regional governments for the services rendered. The total sum of embezzlement stands at €6.2 million ($6.8 million).
The funds were allegedly invested in the Arizoon real estate company, which is jointly owned by Urdanfarin and Christina, and subsequently used to cover their personal expenses. The activities funded by the spouses reportedly include dance lessons, children's parties, birthday celebrations, and even an African safari. They also used the funds to make lease payments on their home in Barcelona. The couple is accused of falsely billing Instituto Nóos on behalf of Arizoon and then applying for tax deduction.
The trial was launched on January 11 of this year after a complaint by anti-graft organization Manos Limpias (Clean Hands). Christina still tried to avoid being charged by citing the Botín legal doctrine, according to which she cannot be subject to trial if the motion is not backed by the state.
However, her efforts were not rewarded, as the court in Palma de Majorca upheld the charges on Friday. The three judges found the evidence presented by Manos Limpias and the investigating judge, who spent four years probing the case, substantial enough to side with the plaintiffs.
"A tax crime is a crime against everyone… While it's true that it harms the private interest of the Inland Revenue, those unpaid taxes belong to all of us," Virginia López Negrete, Manos Limpias' lawyer, said in commenting on the case, according to the Guardian.
The court's ruling came despite lawyers for the sister of King Felipe VI, a prosecutor, and a state attorney representing the Spanish tax authorities all saying that the charges should be dropped, as government officials have agreed that Christina committed no crimes and should, instead, face an administrative tax evasion fine.
Christina's lawyer called the trial "a violation of her fundamental rights." Her defense team points out that she may have been unaware of Urdangarin's scheme.
Following the announcement, the Royal Palace stated that it respects all Spanish judicial decisions, but offered no further comment.
The proceedings, which feature 16 defendants in addition to Christina and her husband, will resume in February. This is the first time a member of the Spanish royal family has faced criminal charges since the monarchy was restored in 1975.