Norway may ask refugees with savings to cover 'some' costs they incur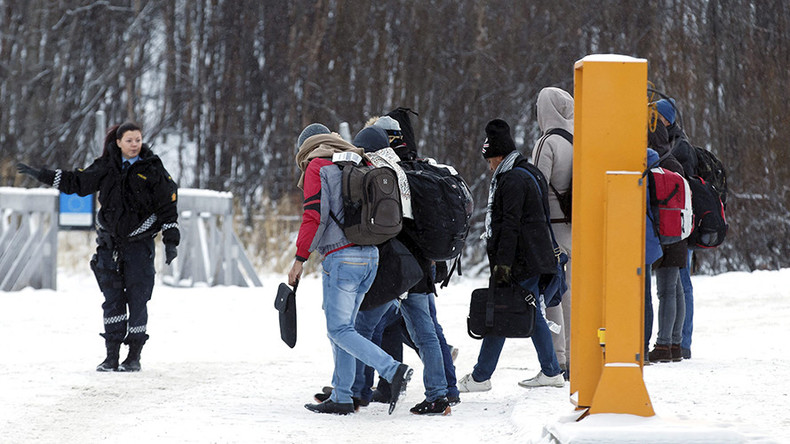 Norwegian officials have distanced themselves from suggestions that Oslo may follow in Denmark's footsteps and start seizing valuables from refugees. However they hinted that refugees 'with savings' might have to cover some of the costs.
Norway's parliamentary leader and member of the Progress Party, Harald T. Nesvik, rejected claims that the country is considering legislation aimed at stripping refugees of their valuables, as some of his own party members earlier suggested.
However, Nesvik conceded that it would be fair for refugees to abandon a part of their assets in favor of the state if they want to be entitled to welfare benefits.
"There could be many coming to Norway with savings, so I think we should assess whether they should pay towards some of the actual costs incurred while we review their case," Nesvik told Nettavisen newspaper.
Prime Minister Erna Solberg has also denounced the allegations that Norway is on its way to mirroring the widely-condemned Danish law which allows for confiscation of refugees' cash and personal items valued at more than 10,000 kroner (US$1,450).
"It's not current Norwegian policy," she said as cited by the Norwegian news agency NTB, adding that, if refugees are capable of paying for the expenses they may inflict on the state, they should not necessarily be given an access to services free of charge.
Earlier this week controversial proposal to take up to 85 percent of refugees' income has been advocated by Geir Are Winther, the Progress Party spokesman, who compared the treatment of asylum seekers to that of the elderly, speaking at the party convention in the city of Troms. He stressed that refugees should not be given any advantage over locals, who concede major share of their funds to qualify for financial support from the state.
"If we think about the elderly who move into an institution, where we take up to 85 percent of their income to finance [the stay], it is only fair and reasonable that we would also collect money from those who come with a lot of it," he told NRK broadcaster.
Despite assertions, voiced by Norwegian top politicians that they would treat poor refugees and the wealthier ones the same way, the regulations of the Norwegian Directorate of Immigration (UDI), stipulate that asylum seekers who arrive in the country with more than 5,000 kroner may be denied an access to social benefits.
"If you just look at the value limit, the Norwegian rules are without a doubt more strict than the Danish law," lawyer Cecile Schjatvet told NRK.
Some Norwegian politicians are even considering raising the limit even more.
"I want to change the current rules in Norway. Five thousand kroner is too low. Even though the authorities don't confiscate valuables worth more than 5,000 kroner, that isn't the same as having a ban against confiscation," Dagrun Eriksen, Norwegian MP from Christian Democratic party told to NRK.
On Tuesday, Denmark passed controversial bill, which was lambasted by human rights organizations as well as the UN institutions and the Council of Europe officials. Asylum seekers who still want to reside in Denmark will have to hand over their valuables and cash exceeding 10,000 kroners' worth. Apart from that potential refugees will be subject to the rigorous body and luggage searches upon their arrival. The ultimate goal of this policy is for Denmark to become "significantly less attractive for asylum-seekers," according to Integration Minister Inger Stojberg.
Denmark is not the first country to implement this practice.
Refugees coming to Switzerland are required to give up financial assets worth more than 1,000 Swiss francs (US$985) in order to be accommodated in refugee shelters. It was reported that Swiss authorities confiscated the demanded sum from 112 refugees out of 45,000 last year. The law, which is in fact decades-old, applies to asylum seekers who stay in the country longer than seven months. If they decide to leave the country earlier, the money is supposed to be reimbursed.
Some German states also have started to confiscate refugee's valuables in January. Authorities in Bavaria defended the move by citing federal laws that require asylum seekers to use their own funds. Cash and valuables over €750 (US$810) can be seized by the state. The government of neighboring Baden-Württemberg has implemented a stricter process, with police confiscating cash and valuables above €350.
You can share this story on social media: