Austrian teacher replaces 'God' with 'Allah' in song to appeal to Muslim kids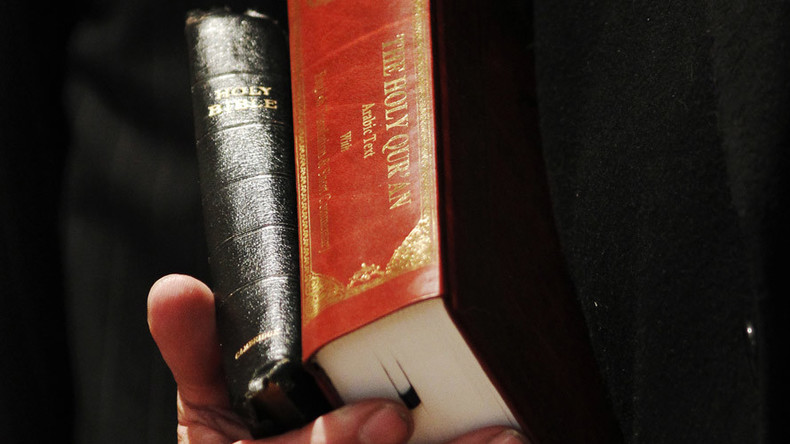 Parents in the Austrian city of Wels are angered after a teacher substituted the word 'God' in a popular Christian children's song with 'Allah'. The teacher said the alternative version was meant to be sung only by Muslim kids in a mainly-Muslim class.
However, the controversial decision has caused outrage among parents, with some filing a complaint with the state council that oversees school activity.
"It isn't just about the use of the word Allah. It also means God! You just can't go about rewriting text like this," said the father of one of the pupils to Austrian newspaper Krone.
The original song, titled 'Gottes Liebe ist so wunderbar' (God's love is so wonderful) is extremely popular among Austrian Christian children.
The teacher of the fourth form of the Vogelweide public school, the main culprit in the parent`s eyes, said in an interview with school inspector of the Wels district that she hadn't intended to distribute the copies of the 'edited' version to non-Muslim children.
"The teacher handed out different texts to Muslim and Christian children. In this case one of the children must have accidentally been given the wrong copy," School Inspector Karin Lang said, as quoted by Focus Online.
Headmistress of the school Ulrike Fellinger was unaware of the teacher's bold initiative and in the aftermath of the scandal decided to ban performing religious hymns "outside of the religious class" altogether to avoid any potential misunderstanding in the future.
As the steady flow of refugees continues to pour into European countries, the problem of integration of hundreds of thousands of asylum seekers, mostly of Muslim origin, into European society, plagues the minds of politicians.
Austria may even start to fine refugees who refuse to attend special integration courses. Last week Foreign Minister Sebastian Kurz, speaking at the economic forum in Davos, stressed the necessity to integrate refugees into the Austrian community.
"Those, who do have the right to get asylum, should be integrated into society," he said, adding that the migrants who are unwilling to learn German may have their social benefits cut.
A comprehensive integration program was approved by the federal government and local governors on January 20. It includes eight-hour courses designed to give refugees an idea of Austrian legal systems and social norms, as well as to teach refugees about the core democratic principles of equality and equal rights. The courses will be held in Arabic, Farsi/Dari and English are scheduled to start in February.
Last week, Austrian Chancellor Werner Faymann announced that Austria would significantly decrease its rate of acceptance of asylum seekers` applications. It plans to limit the share of refugees to 1.5 percent of the population in four years. It means that only approximately 37,500 requests will be approved in 2016, almost one-third of last year's intake.
You can share this story on social media: