At least 1 killed in tunnel collapse at France's planned nuclear waste storage site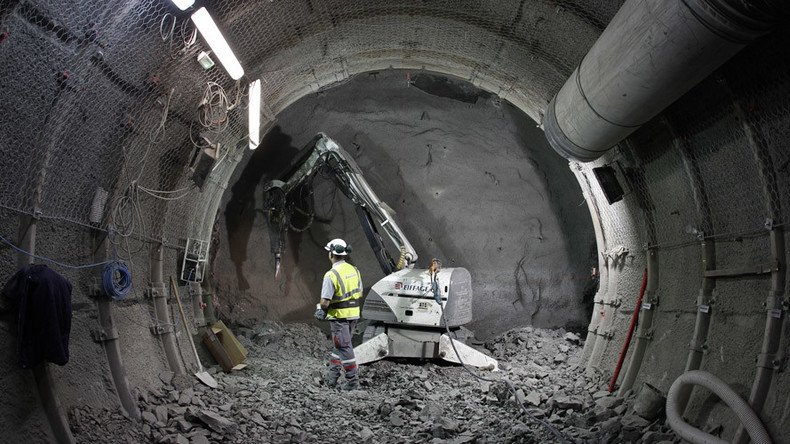 A tunnel at a French nuclear waste storage facility under construction has collapsed, killing at least one person and injuring another, French media reported, citing rescue teams.
The incident happened on Tuesday afternoon in Bure, northeastern France, at an underground laboratory of the National Agency for Radioactive Waste Management (Andra), which didn't immediately comment on the incident.
The two victims, including a seriously injured person, are still trapped 500 meters below the ground, with emergency services trying to reach them, Reuters reported, citing local fire service.
Andra's Cigeo deep geological storage project is designed to ensure long term management of France's radioactive waste, and is still subject to approval.
READ MORE: Radioactive materials spreading from St. Louis landfill – report
Scheduled for an authorization decree in 2018 and industrial commissioning in 2025, the facility - if approved - is expected to bury France's most dangerous, highly-radioactive nuclear waste. The project, estimated to cost €25 billion ($27 billion), is awaiting the government's final investment decision, but testing works with deep shafts and some future installations have already begun at the site.
READ MORE: 82 contaminated waste bags from Fukushima washed away by typhoon floods
Stored in underground layers up to 500 meters deep, the waste to be buried at the site accounts of some 3 percent of the total volume of waste produced by French reactors, but concentrate some 99 percent of the radioactivity and must remain confined for around 100,000 years before it's not dangerous to humans, according to Ouest France.
You can share this story on social media: