US & Iran in talks to resume direct flights after 36-year hiatus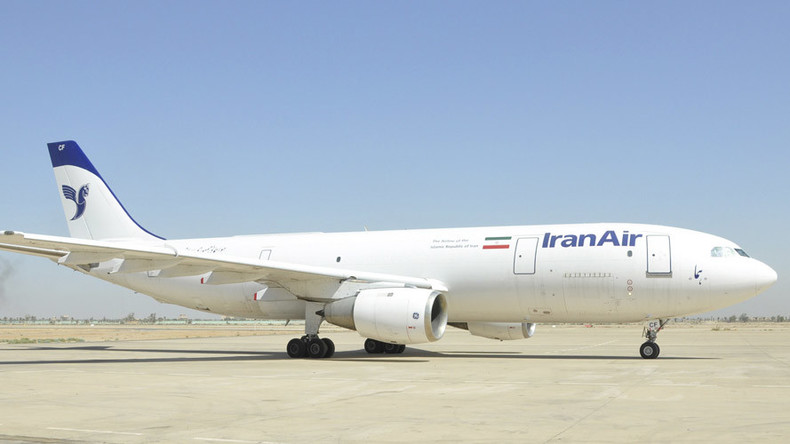 Talks are underway about resuming direct commercial flights between Iran and the US. The plan is being backed by Iranian President Hassan Rouhani as Tehran aims to end the three-and-a-half decade long impasse.
"The matter is currently being examined, and the result of the negotiations will be announced at the appropriate time," Foreign Ministry spokesman Jaber Ansari said, as cited by DPA.
The Iranian Transportation Minister Abbas Ahmad Akhoundi and the civil air traffic authority are leading Tehran in its negotiations with its American colleagues. The move also has the backing of President Rouhani, who says he would like to make direct flights possible again.
His words will certainly be welcomed by members of the large Iranian diaspora living in the US, who have previously been forced to take connecting flights via Europe or other Middle East countries to return to their mother country.
On Saturday, Tehran announced it was going to purchase 127 planes from European giant Airbus in a deal that is reportedly worth over $20 billion, if it is confirmed. Akhoundi said that Iran has only 150 operational planes out of a fleet of 250 and is planning to modernize its aircraft as soon as possible.
Iran was hampered for decades by US sanctions, which did not allow it to buy much-needed parts for the repairing of planes.
Ali Abedzadeh, chairman of the Iran Civil Aviation Organization (IAIO), said Tehran needs at least 500 commercial aircraft over the next 10 years, of which 300 should be wide-bodied, twin-engine jet airliners.
Speaking at the Iran Aviation Summit 2016, Tehran's first major post-sanctions gathering said to be attended by 85 airplane supplier companies, including Airbus, Abedzadeh invited foreign businessmen to invest in Iran's aviation industry.
"The IAIO is willing to ink cooperation agreements with foreign firms to modernize the fleet. The organization welcomes foreign direct investment to serve its expansion," he said on Sunday, according to Fars news agency.
On Monday, President Rouhani signed billions of dollars of business deals with Italy during a visit to Rome. Meanwhile, a source in the Italian government mentioned that the total figure will be up to €17 billion ($18.4 billion) in sectors from energy to shipbuilding.
"This is just the beginning of a journey. There are sectors where we must work closer together," Italian Prime Minister Matteo Renzi was quoted by Reuters as saying. The Italian leader also said he was hopeful that Iran and the West could also cooperate on fighting terrorism, in reference to Islamic State (IS, formerly ISIS/ISIL).
On Tuesday, President Rouhani will address around 500 Italian business leaders before meeting Pope Francis, who is likely to mention the prospects for peace in the Middle East. The Iranian leader will then depart for France on Wednesday.
Unlike Italy, which was not involved in the nuclear negotiations with Iran, France took a tough stance against Tehran during the talks. This could make Rouhani's visit to France a harder prospect than his trip to Rome.
"Trust needs to be built. It's like love. It is only the proof of love that counts," said a senior French diplomat said as cited by Reuters.
French businesses are eager to tie up deals with Iran, and the head of the Total oil group, Patrick Pouyanne, is among top French executives who are expected to hold one-on-one meetings with Rouhani.
You can share this story on social media: