Syrian army involved in ideological battle with terrorists – RT report from frontline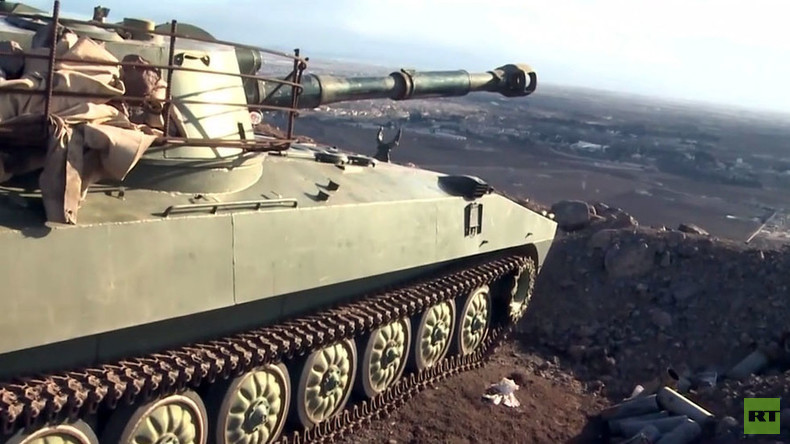 Al-Nusra Front terrorists in Syria, who have lost strategic positions to the Syrian army, have been using civilians to prevent government forces from making further offensive gains, as RT's Murad Gazdiev reported from the front line.
RT's crew in Syria has visited a high point controlled by Syrian forces in Khan ash-Shaykh, which is sought by the jihadists. Although many towns where fighting is ongoing have been deserted by locals, there are still civilians in this area who want to get on with their lives.
"We only fire [at terrorists' targets] when we are sure that no civilians will be hit. The rebels know it, so they try to hide between people's homes. If there is any risk of civilians being hit, we abort our strikes," Anas, a tank commander, told RT.
If a civilian gets hurt, many people become angry, which potentially pushes them to join one of the sides, Gazdiev reported, saying that Syrian troops have been waging in an ideological war for hearts and minds, as much as for territory and tactically important high points, from where targets are easier to sight and attack.
In one of their recent advances, the Syrian Army managed to regain control of large territories in the Latakia province. With the support of the Russian Air Force, nearly 30 towns, including the strategically important town of Rabia, were retaken by government troops in the course of 24 hours, the Russian Defense Ministry reported on Monday.
READ MORE: Russian army launches humanitarian op in Syria - General Staff
The town was seized by terrorists four years ago, Syrian news agency SANA reported. Now it will be used as a base for launching more offensives against the militants in the neighboring Idlib province.
While the site has been described by the media as a key opposition stronghold, new images from the ground also suggest a jihadist element. An Islamic State (IS, formerly ISIS/ISIL) flag could be seen painted on a wall, as well as a number of written messages calling on people to establish an Islamic state in their souls.
You can share this story on social media: