Matador fights bull while clutching 5-month old daughter, internet vents fury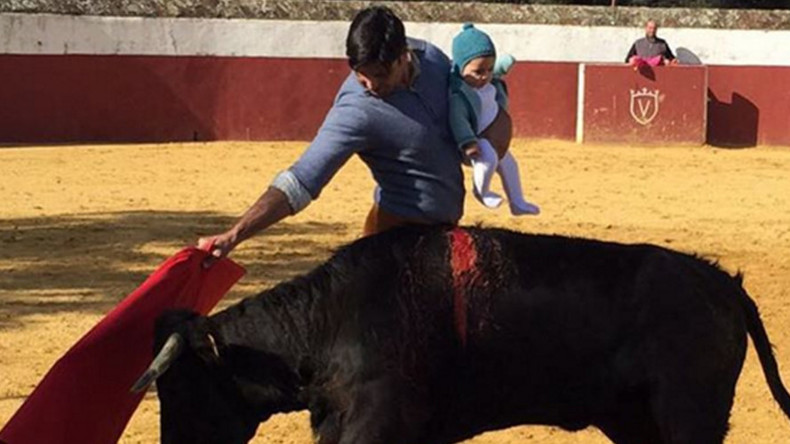 Spain's beloved bullfighter Francisco 'Fran' Rivera Ordonez has been bearing the brunt of a social media backlash since posting a photo on Instagram showing him in action while holding his baby girl.
Ordonez was in hospital recovering from being gored by a bull when his daughter Carmen was born last August. His father, Paquirri, a legendary matador himself, infamously died in the ring back in 1984 after being gored.
Yet that didn't stop 'Fran' from expressing his pride in continuing an apparent family tradition.
"This is the fifth generation of bullfighters in our family. My grandfather used to bullfight with me and my father like this. My father also used to bullfight like this with me, and I have done it with my daughter Cayetana and now Carmen," he said in his Instagram post.
Ordonez also included a picture of himself as a boy sitting on his father's shoulders as the elder matador attempts to fend off a charging bull.
While both pictures depict training runs rather than competitive fights, many on Twitter condemned the risky behavior.
Some objectors went down the route of sarcasm, with one Twitter user writing, "I think the father of the year goes to..."
While others focused on what they see as cruelty to animals. This tweet reads: "Beautiful image of Fran Rivera taking his daughter to 'work' with the torture of innocent animals."
The controversial pictures certainly represent a setback to the image of the "sport" less than a week after it received a major boost in its long-running battle with Facebook.
Users of the social media site are no longer able to report images related to "hunting and bullfighting" as inappropriate, as the practice is now deemed a "cultural activity" by Facebook.
READ MORE: Olé! Facebook reverses decision to label bullfighting 'inappropriate'

You can share this story on social media: