¡Olé! Facebook reverses decision to label bullfighting 'inappropriate'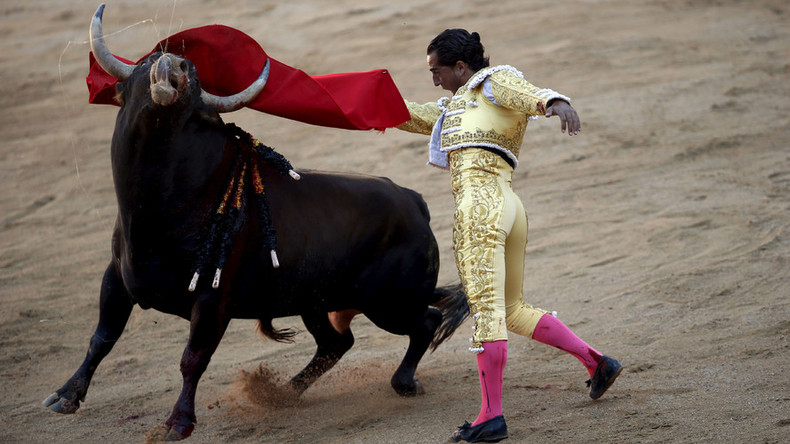 Spain's storied bullfighting community won its latest battle against the multibillion dollar 'toro' called Facebook, after the social network giant tried to wave its red "inappropriate content" flag against photos of the ancient tradition.
While opponents of racism and xenophobia have trouble getting offensive content removed by Facebook, users are not longer able to select "hunting and bullfighting" as a reason to report an image.
This option was removed after bullfighting fans deemed it a "cultural activity", not something to be listed with "pornography" as "inappropriate" material.
No official statement has been issued by Facebook on the reversal.
The original policy did have support from Spanish animal rights groups like Libera! and PACMA.
In 2013, Spain passed a law declaring bullfighting to be "cultural heritage worthy of protection" and ensured it would continue in the country.
The bill was the result of a petition signed by 600,000 bullfighting supporters including the now-former prime minister Mariano Rajoy and Nobel-winning author Mario Vargas Llosa.
Writer Ernest Hemingway was a staunch supporter of bullfighting, famously saying "There are only three sports: bullfighting, motor racing, and mountaineering; all the rest are merely games."
The Canary Islands and Catalonia region have upheld their ban despite the bill being passed.
Internationally, bullfighting has been slammed by animal rights activists including comedian Ricky Gervais, who controversially sent a tweet sympathizing with a bull who had gored a matador to death.
PETA has also criticized the activity, calling on bullfighting schools in Spain to be shut down. The global animal rights organization claims students as young as 14 are taught to torment and kill bulls.
You can share this story on social media: