ISIS escapes Syria airstrikes by hiding at country's largest dam, using hostages as human shield
Under pressure from airstrikes, Islamic State in Syria has partially retreated to a strategic safe haven. Its fighters are said to be holed up at Syria's Tabqa Dam, the country's largest, with senior IS commanders using civilian hostages as a human shield.
Islamic State (IS, formerly ISIS/ISIL) militants are using the dam as secure shelter because bombing it would create a flood risk to countless settlements on the banks of Euphrates River in eastern Syria and Iraq.
The Tabqa Dam controls the flow of the Euphrates River into south-eastern Syria and northern Iraq. It is located 40km upstream from Islamic State's self-proclaimed capital of Raqqa.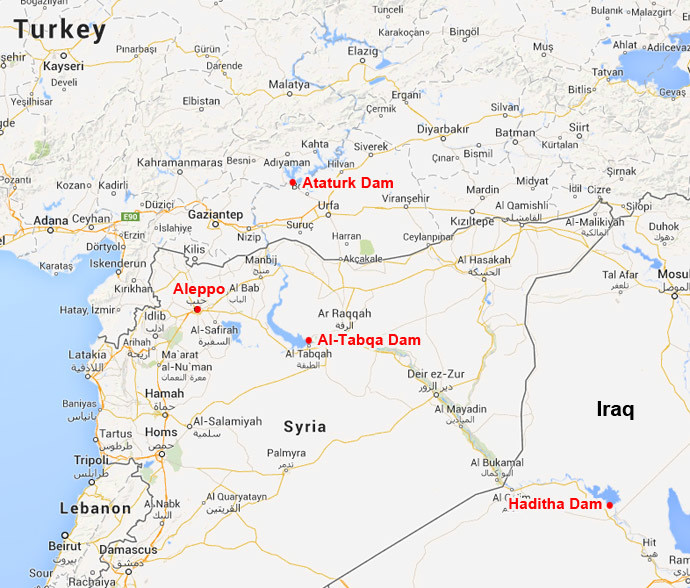 The huge 60-meter high, 4.5km-long facility was constructed in 1968-1973 with financial and technical aid from the Soviet Union. Construction of the dam created Lake Assad, the country's largest reservoir.
Islamic State is reportedly keeping hostages and sheltering its senior commanders inside the facility.
US Defense Secretary Ash Carter has promised to assist local forces in recapturing cities occupied by terrorists, starting with IS's self-proclaimed capital of Raqqa, and also Mosul, the largest city controlled by the terror group in Iraq.
But chasing the terrorists out of the Raqqa area could have consequences.
Officials and analysts fear that IS could blow up the dam if they lose their grip on the territory, which would cause devastating damage.
Journalist and commentator on the Middle East Adel Darwish told RT that the destruction of the Tabqa Dam is dangerous not only because of a flood, but also because large number of people living in eastern Syria would be cut off from their electricity supply.
Because a large number of civilian hostages are being held at the facility, it cannot be liberated with a military operation or by bombing, Darwish pointed out. "Unlike other terrorist groups, Islamic State likes holding onto territory and loss of a primary infrastructure facility would mean a defeat for them."
"Most probably they are bluffing that they would go and blow up the dam. However, they are not something we've experienced in any other war, so we cannot really guess what their next move is," Darwish said.
A similar situation was looming in Iraq in 2013 when IS seized control of Mosul Dam, which saddles the Tigris River near the city of Mosul - Iraq's third largest city, which also remains under IS control.
The US State Department estimated that in the event that Mosul Dam was damaged, a flood would kill as many as 500,000 people living downstream and would leave over a million people homeless.
But 16 months ago Iraqi and Kurdish forces knocked the jihadists out of the facility and have continued to keep the dam safe, preventing the strategic facility from being re-captured.
You can share this story on social media: