Super high-speed transport coming to Russia? Hyperloop says talks in progress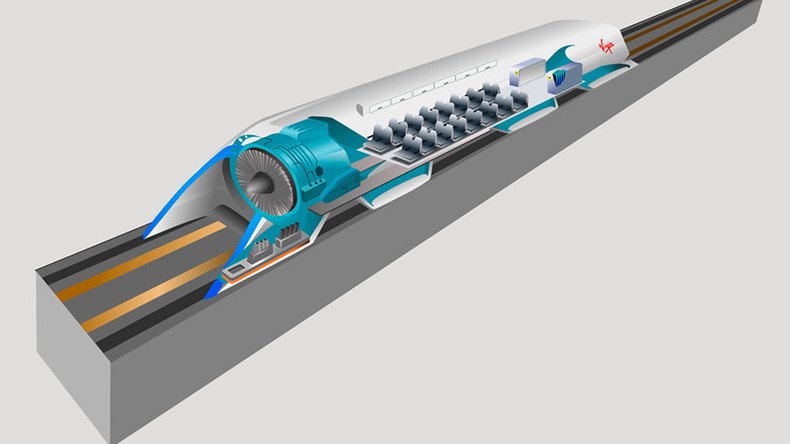 Hyperloop Technologies is in talks with a Russian investor to finance the possible building of a new kind of transport, the company's COO told RT at the World Economic Forum in Davos. It is likely the government will also be keen on the idea, he believes.
Imagine a regular pneumatic transport tube, used to move small objects in capsules, but on a much, much bigger scale with people inside. US engineers recently developed a system capable of carrying at least 28 people in a single pod over long distances in a vacuum pipe, with pods departing every 30 seconds.
The first full-scale travel system is currently being built in California, and will be ready to be launched around 2019, Hyperloop Chief Operating Officer Bibop Gresta told RT.
A Russian private investor, whose name is being kept secret for now, is contemplating whether to fund the Hyperloop project for Russia, the COO said.
"So we're talking with a Russian private investor to basically have the first route in Russia, and we're analyzing different possible solutions between different cities", Gresta said. "You can connect Moscow and St. Petersburg in 35 minutes," he added.
He wouldn't disclose the details of the deal, however, as no agreements have been signed yet. The only thing Gresta made clear is that the investor may not be the only one to finance the project, as Russian government is interested in Hyperloop as well.
"We're heading at the PPP, Private-public partnership. Usually that's our model: we involve a private investor and then we ask the state to basically be involved. But it's a profitable business, for the first time we have a system that is actually able to produce money, so it's not on the shoulder of all the citizens," Gresta explained.
Hyperloop has obvious advantages over other kinds of transport, he says. First of all, it costs "10 times less than any other system". The costs might be reduced because Hyperloop runs on energy produced by wind, geothermal sources and kinetic energy that produced by the capsule's movement. Secondly, when compared to a railway, a pipe built on pylons is more convenient as it doesn't get in the way of other means of transportation.
The businessman feels optimistic about the company's prospects in Russia. In his opinion, Russia is "a perfect country to have a Hyperloop" because of its vast territory and population density.
He also thinks that the US sanctions imposed on Russia would not interfere with potential Hyperloop business, as the technology used is not entirely new and was developed in the last century – and therefore wouldn't be subject to restrictions.
Gresta was unable to answer the question as to whether investors would somehow be able to persuade the government to lift the sanctions. However, he noted that the new generation of Russians might make a difference. In 10 years, Russia will experience a sharp surge in all of the main industries, driven by innovation, the COO predicted. "Innovation will drive Russia into the new Renaissance," he said.
You can share this story on social media: