Austerity pushback: Protests at Irish ruling party convention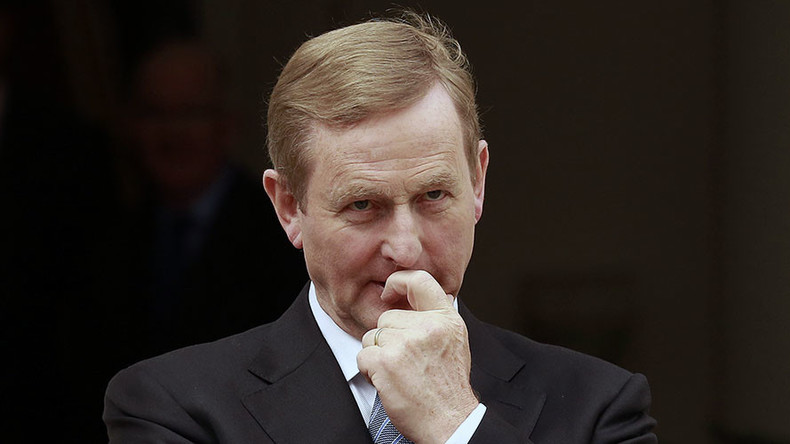 Tensions are high in Dublin, Ireland Saturday as increased security at the senior coalition party's convention was met by hundreds of anti-austerity protesters.
Over 200 protesters took part in the march, led by Paul Murphy, a sitting member of parliament representing the new Anti-Austerity Alliance/People Before Profit (AAA/PBP).
Murphy and 15 others were charged with "false imprisonment" during a 2014 anti-austerity protest in Jobstown against the Labour party Tánaiste (deputy prime minister) Joan Burton, which Murphy described as "political policing".
Despite past conflicts and Friday's bullet scare, participants and police remained peaceful with numerous chants taking aim at both Fine Gael and their coalition partners Labour.
"No way, we won't pay" and "Jobstown innocent, Labour guilty" were repeatedly shouted during the march.
Speakers branded the government parties as "corrupt" and "working against the people".
Some took aim at mainstream media outlets in Ireland who they said were helping the government get re-elected, including the Independent newspaper which is controlled by billionaire Denis O'Brien.
Originally from Ireland, O'Brien is now a resident of Malta for tax purposes and owns the company paid to install controversial water meters, symbols of austerity and privatization.
Gardaí (Irish national police) presence at the Fine Gael party event was increased after an empty plastic shotgun cartridge was discovered behind the stage where Taoiseach (Prime Minister) Enda Kenny was due to make his opening remarks Friday.
While the rest of Europe deals with its tensions with migrants, Ireland faces its own internal struggles with a general election just weeks away - and could shift to the left like fellow EU countries Spain, Portugal, and Greece.
The latest poll released last week shows Fine Gael's support dropping with just 30 percent, with voters otherwise split across a number of parties and independents.
Kenny and his pro-austerity, center-right alliance are promoting Ireland's economic "recovery", even though hunger, homelessness, emigration and housing prices are rising.
Speaking at the Ard Fheis (Irish for 'convention') Friday, after the bullet scare, he was critical of socialist parties like Murphy's, saying now is not the time for "economic populism."
Many disagree with Kenny's definition of the word "recovery".
Earlier this week, Kenny was at the World Economic Conference in Davos, and while he didn't get invited back to speak in the main congress hall like last year, he was on a panel with economist Joseph Stiglitz titled "Rebooting the global economy."
Stiglitz warned that Ireland's "recovery" was not set in stone: "What is still clear with Ireland... even with your seven percent growth, GDP per capita is lower than it was in 2007-8."
One of Fine Gael's biggest opponents going into the elections is the left-wing nationalist party Sinn Fein.
Led by Gerry Adams, it is part of a handful of anti-austerity parties that have rapidly grown since the global financial crisis by being heavily critical of Kenny and his government's cutbacks and privatization.
Fine Gael and other centrist parties use Sinn Fein's links with the Irish Republican Army (IRA) against them, as many Irish voters are unforgiving about their use of violence.
Ministers from Fine Gael have pushed for a report into current IRA activities to be released before the election hoping to prove that Gerry Adams claims that the IRA had "gone away" in 2005 are untrue.
Fine Gael, on the other hand, has been criticized for its link to US-led violence by allowing military planes to refuel at Shannon Airport on their way to conflicts in the Middle East.
Two sitting members of parliament who are vocal against austerity risked jail time to protest the role of Ireland, a neutral country, in American wars abroad.
READ MORE: Irish politicians face Christmas jail time for trying to inspect US war planes
Saturday's protests at the convention will likely merge with another rally in the city center against water charges, one of the many austerity policies that have been pushed through by the current coalition.
Over the past 18 months, hundreds of thousands of people filled the streets in a country with a population of less than five million when water charges were introduced.
More than 50 percent of customers refused to pay the charges while corporate and upper-income tax rates remain low.
The anti-austerity group Right 2 Water organized 30 local protests around the country to coincide with the convention and promised the country's largest-ever protest the weekend before the election, which is expected to be scheduled for late February.
You can share this story on social media: