17 children among 42 drowned after refugee boats sink off Greek coast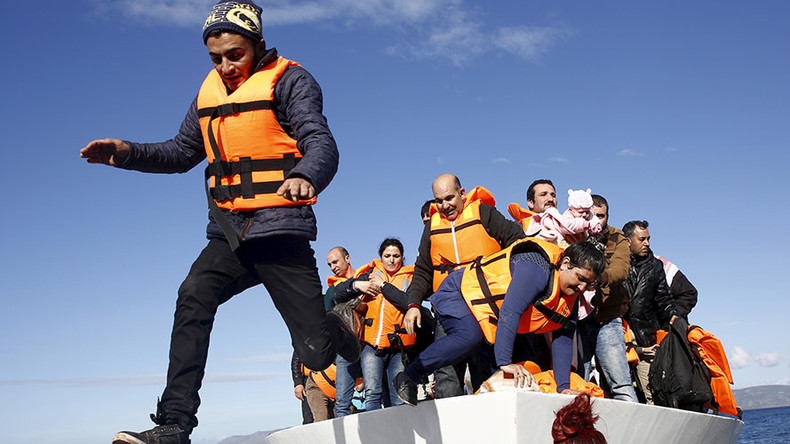 At least 42 refugees, including 17 children, drowned after two boats sank in the Aegean Sea early on Friday. A search and rescue operation is underway for potential survivors.
The first incident involved a wooden boat carrying 49 people, which sank off the small Greek island of Farmakonisi. The bodies of eight refugees – six children and two women – were recovered from the sea. Forty people managed to make it safely to shore, and authorities rescued one girl, AP reported.
A few hours later, a wooden sailboat carrying an unknown number of people sank off the island of Kalolimnos, south of Farmakonisi. Thirty-four bodies – 16 women, 11 children, and seven men – were recovered by the coast guard, and 26 people were rescued.
Coast guard vessels, a helicopter and private boats continue to search for other possible survivors from the second boat. It is difficult to determine how many people could be missing, as survivors' estimates of passengers vary from 40 to 70 people.
Greece has become the main gateway for refugees trying to reach the European Union. More than 800,000 people entered the country last year, most of whom arrived on rickety boats from the nearby Turkish coast.
More than 700 people died or were reported as missing in the Aegean crossing last year, and another 100 have already perished this month. In December, the International Organization for Migration called the Mediterranean Sea the deadliest place for refugees, stating that 3,770 people died while making the crossing to Europe in 2015. The Aegean Sea is an elongated embayment of the Mediterranean.
Turkey is home to nearly three million refugees, most of them from Syria. Many pay smugglers thousands of dollars to make the dangerous crossing to Greece. From there, most of them head north to Germany or Scandinavia.
EU countries are urging Turkey to help control the flow of refugees, and Merkel has pressed the EU to honor its pledge of €3 billion (US$3.3 billion) to improve conditions for those living there.
Europe continues to face the worst refugee crisis since World War II, with the number of asylum seekers expected to increase this year. More than one million refugees entered Europe last year, most of whom came from Syria, where a civil war has taken the lives of 250,000 people and displaced 12 million others since 2011, according to UN figures.
You can share this story on social media: