Snöpenis returns: Man who rubbed out original creates enlarged version (VIDEO)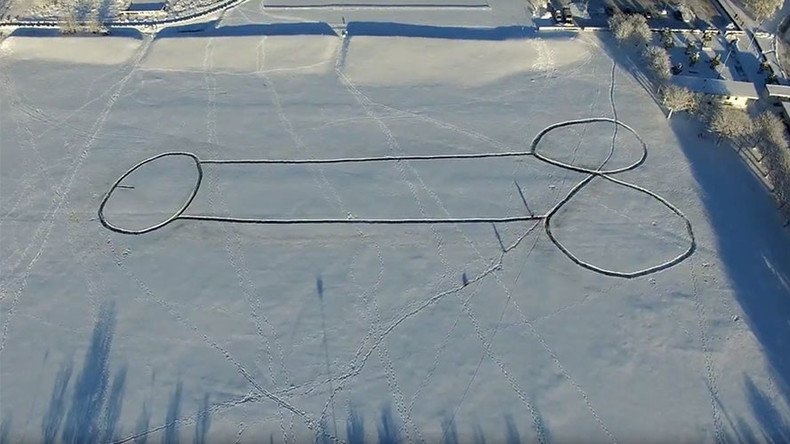 A bigger, more detailed snöpenis has returned to a 'ballgraven' (moat) in the Swedish city of Gothenburg - and with it comes more clarity about the fate of the destroyed original.
Earlier this week, we told you about what's been dubbed the 'snökuken' or 'snöpenis', a crafty work of art in the snow that got some neighbors hot and bothered and the rest of us smiling.
READ MORE: 'Giant snow penis' becomes nuisance for Swedish park staff
What we didn't know is if, or how, it was removed.
Now, thanks to YouTube, Emilian Sava has unrobed the truth and revealed how he rubbed out the snöpenis with an extended brush.
Touched by people's love for the phallic "freedom of expression", he decided to make amends by creating a bigger - and arguably better - snöpenis, the size of a football field.
Speaking on the Canadian national broadcaster CBC, Sava said he became inspired by the Swedish language Facebook community page 'Återställ Snökuken' with more than 3,000 members.
"In the middle of the night, I wake up, I went to the computer and I write to them: 'I'm really sorry that I deleted your penis'", he said.

Sava carved the new Snökuken the next day, much to the delight of fans.
The sheer scale of Sava's snow-blown creation is hard to take in on the ground, but a local TV station actually spent money to fly a helicopter over it and get some shots.
"At least now no one can get offended by the penis. It can't be seen from the ground, however, a helicopter pilot that flies over it can get a good laugh," Sava explained to the local newspaper GT.
Sava also suggested that this may just be the start of a much wider movement: "I think people around the world are thinking, and they will do much bigger penises than this one."
You can share this story on social media: