Cambodia asks Interpol to hunt down culprit of 'disrespectful' Facebook post about PM's wife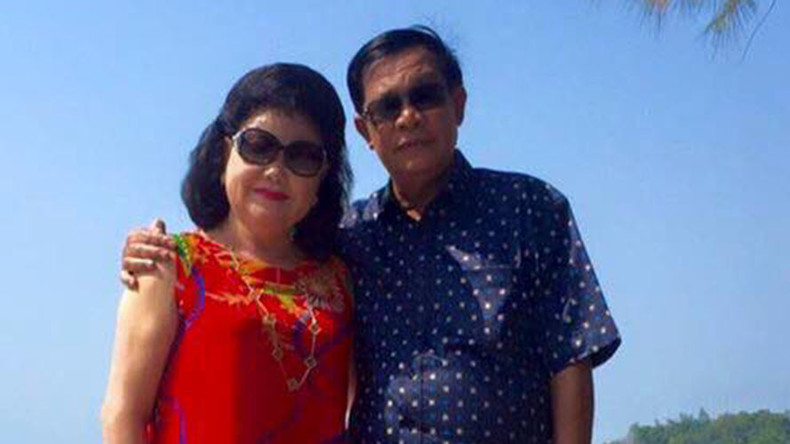 Offended by a Facebook post? Who are you going to call? Interpol, of course. Cambodian police have enlisted the help of the international crime-fighting organization to arrest a user who posted a "disrespectful" photo of the PM's wife.
The photo of Prime Minister Hun Sen's spouse, Bun Rany, posted on the social network tries to damage her "honour and dignity," according to a government official.
The snap, which shows the prime minister on holiday with his wife and grandchildren, was grabbed from his Facebook page and altered to spread the legs of Bun Rany, who is wearing three quarter length trousers, apart.
Mr. Hun Sen is so mad that he's asking the Interpol to arrest the person whom had Photoshoped his wife's photo to make...

Posted by Meas Savy on Sunday, January 17, 2016
Police have identified and are seeking to take legal action against a Facebook user suspected of doctoring a photo of Prime Minister Hun Sen's wife, Bun Rany. #Cambodia

Posted by Rolando Bocanegra Jr. on Monday, January 18, 2016
In conservative Cambodia this is seen as a highly inappropriate way for a woman to stand."The act damages the honour and dignity of the First Lady of a nation," General Khieu Sopheak, spokesman for the Ministry of Interior, told AFP.
"Haknuman Leung," the individual who posted the image, which briefly went viral before being removed, has been identified by authorities as a Cambodian national who lives abroad. Authorities are working with Interpol to issue a "Red Notice" for his arrest - the highest alert to Interpol member states to find and arrest a suspect, with a view to extradition.This is normally used for serious criminals.
Opposition "extremists" have been blamed for the post by Prime Minister Sen, according to AFP. Cambodia ramped up efforts to control social media use last August when plans to form a new government department responsible for monitoring and cracking down on a range of vaguely defined "online" crimes were given the green light.
READ MORE:Thai woman gets 9-year sentence for insulting monarchy on Facebook
Earlier this month a 25-year-old man was charged with issuing death threats to the prime minister and faces up to two and a half years' jail time if found guilty.
A Cambodian opposition senator, Hong Sok Hour, was arrested last August over a fake treaty he posted on Facebook about the border with Vietnam.He faces up to 17 years in prison if convicted, according to The Express Tribune.
Meanwhile, the prime minister, who has reigned for 31 years, is embracing social media as a tool to engage with the younger electorate.
His Facebook page has 1.9 million likes and he recently launched a website and mobile app to allow the public "to receive news about me quickly," according to AFP.
You can share this story on social media: