No more hangovers: N. Korea dazzles (again) with miracle ginseng drink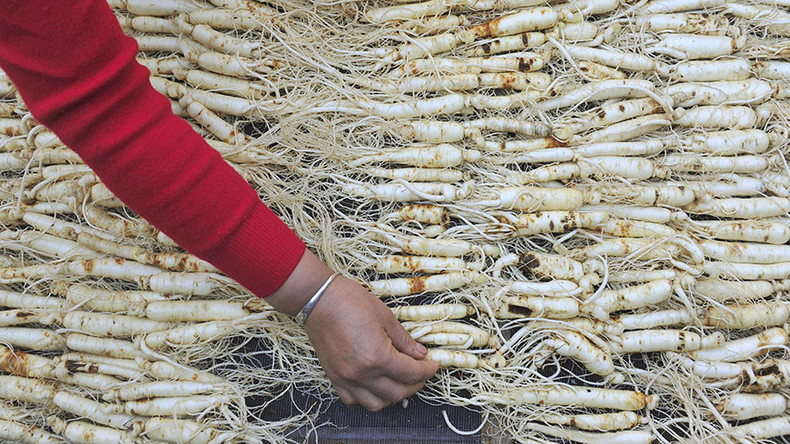 North Korea – the country 'behind' the cure for AIDS, MERS, SARS and Ebola – is not showing any signs of slowing down. State media are reporting there is now a ginseng type of drink guaranteed to get you drunk without the nasty hangover.
The ginseng liquor achieves its effect by allegedly replacing sugar with scorched, glutinous rice. This should eliminate the hangover, as well as bitterness, according to Taedonggang Foodstuff Factory – the company that has been refining the drink for years, the Pyongyang Times reports.
"Koryo Liquor, which is made of six-year-old Kaesong Koryo insam (ginseng), known as being highest in medicinal effect, and the scorched rice, is highly appreciated by experts and lovers as it is suave and causes no hangover," the article writes.
The Pyongyang Times article is entitled 'Liquor wins quality medal for preserving national smack' and, in all fairness, hangover-free alcohol is hard to beat, if true.
The world still remembers Pyongyang's miracle cure for, well, everything, announced early last summer. Like with the amazing new drink, ginseng was also the main ingredient in that breakthrough – along with some other secrets Pyongyang would not divulge.
The injection drug Kumdang-2 was developed from ginseng grown from fertilizer mixed with rare-earth elements, according to the official Korean Central News Agency (KCNA). It even has "micro-quantities of gold and platinum" thrown in, the drug's website says.
Both the Koreas have shown ginseng much love over the years for its medicinal properties. The Kaesong area in North Korea is famous for the root.
Work has been continuing on the miracle insam (ginseng) drink for years. The expression 'the elixir of life' was first used by North Korean media in 1999, according to NK News. This August, the KCNA reported that Koryo Songgyungwan University was working on improving the liquor.
"I haven't tried that brand I think, though I have had some other Insam liquors. They're OK – I associate ginseng with its medicinal properties, though, so am not that keen on it as a tasty treat," Andray Abrahamian of the think tank Choson Exchange told NK News.
"There are some high quality liquors made in North Korea, though in my experience there is no such thing as hangover-free booze anywhere in the world," Abrahamian said.
Over on the South's side, the new liquor should really be a welcome addition: apparently, South Korea's shops are full of drinks targeting hangovers. According to the World Health Organization, South Korea drinks more than any Asian country, with annual alcohol consumption at 12.1 liters per person.
You can share this story on social media: