N. Korea says its wonder drug can cure Ebola, AIDS, MERS & SARS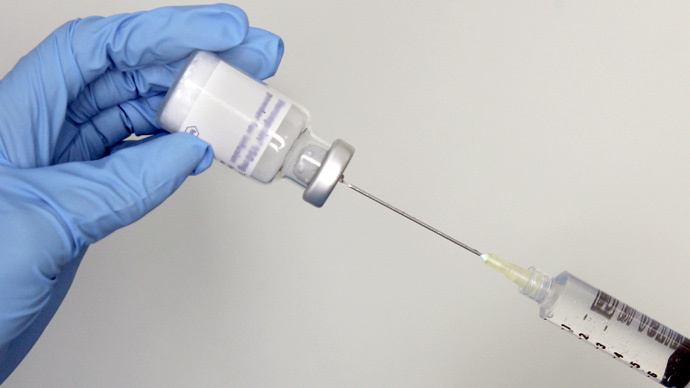 Scientists around the world can apparently hang up their lab coats, because North Korea says it has found a cure for Ebola, AIDS, MERS, and SARS. The claim is a tough pill to swallow, however, and is likely to be met with a generous dose of skepticism.
For decades, researchers have devoted their careers to finding cures for the diseases, but it turns out Pyongyang has secretly had the solution for 19 years.
That's right – the country apparently first produced the disease-fighting drug in 1996, according to pro-North Korea website Minjok Tongshin.
Pyongyang has failed, however, to provide any proof to its lofty claims.
READ MORE: North Korea tells US diplomat stabbed in face that a 'bigger mishap' is possible
Although the world's best scientists couldn't crack the code, it seems the cure wasn't actually all that complicated. A natural herb, some plant food, and a few elements were apparently all that were needed to solve a few of science's biggest puzzles.
The injection drug Kumdang-2 was developed from ginseng grown from fertilizer mixed with rare-earth elements, according to the official Korean Central News Agency (KCNA). It even has "micro-quantities of gold and platinum" thrown in, the drug's website says.
The drug is really convenient, because it's supposedly a cure-all for all four diseases.
"Malicious virus infections like SARS, Ebola and MERS are diseases that are related to immune systems, so they can be easily treated by Kumdang-2 injection drug, which is a strong immune reviver," KCNA said. It also claims the drug can cure AIDS.
READ MORE: N. Korea pledges more space launches in defiance of 'enemy forces'
But the benefits of the drug don't stop there, it seems. Pyongyang boasted about the same drug during the deadly bird flu outbreaks of 2006 and 2013.
However, earlier this year, North Korea shut out foreign tourists for six months, exercising some of the world's strictest Ebola controls – even though the country apparently has the cure in their possession. No cases of the disease were ever actually reported in the country, and the bans were lifted earlier this year.
Meanwhile, according to the World Health Organization, North Korea is struggling to combat diseases such as tuberculosis. Respiratory infections are among the country's leading causes of death, the UN agency says.
Pyongyang's claim comes as rival South Korea fights a MERS outbreak that has so far killed two dozen people. More than 160 have fallen ill from the disease, for which there is no vaccine.
You can share this story on social media: