Pope Francis visits synagogue, says religion must not justify killings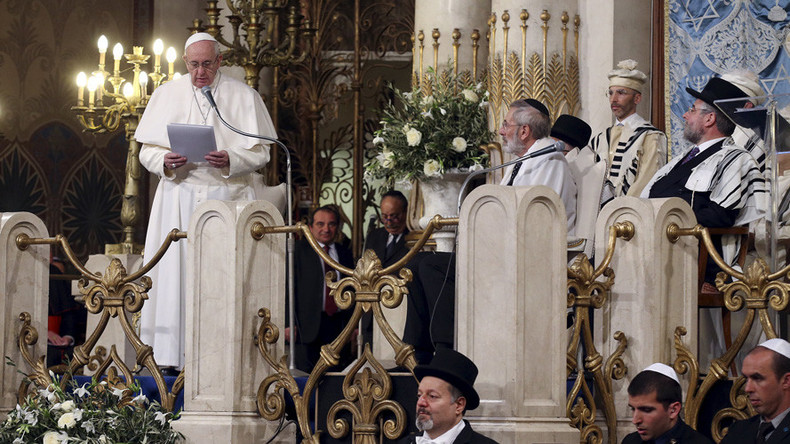 Pope Francis has become the third head of the Catholic Church to visit a synagogue. In the wake of recent jihadist and anti-Semitic attacks, the pontiff denounced all violence committed in the name of God, saying it has nothing to do with religion.
Visiting the Rome synagogue on Sunday, the Pope urged to focus on harsh modern challenges such as conflicts, wars and violence.
"Along with theological issues, we must not lose sight of the big challenges facing the world today," the pope said in his speech.
"Conflicts, wars, violence and injustices open deep wounds in humanity and call us to strengthen a commitment for peace and justice," he added.
Pope Francis also pointed out that violence has nothing with religion, which condemns murder and propagates benevolence.
"Violence by man against man is in contradiction with any religion worthy of that name, and in particular with the three great monotheistic religions [Judaism, Christianity, and Islam]. Life is sacred, a gift of God," the pope said.
"Every human being, as a creature of God, is our brother, regardless of his or her origin or religious affiliation," he added.
The pontiff also spoke about friendly relations between the Catholics and the Jews, referring to the recent 50th anniversary of signing of the Second Vatican Council's Declaration "Nostra Aetate" which paved the path to dialogue with Jewish religious leaders.
"From enemies and strangers we have become friends and brothers," Francis said. "It is my hope that closeness, mutual understanding and respect between our two communities continue to grow," he added.
He also shared some interesting details about his past connected with Judaism.
"Our relations are very close to my heart. When in Buenos Aires I used to go to the synagogues and meet the communities gathered there, I used to follow Jewish festivities and commemorations and give thanks to the Lord who gives us life and accompanies us on the path of history," he said.
Francis is the third pope in modern times to visit a synagogue. The first one was Pope John Paul II, now a saint, who made his historic visit in 1986. Francis's immediate predecessor, Benedict XVI, also visited a synagogue in 2010.
You can share this story on social media: