'She'll kick you to death': Teens brutally beat up 16yo in Russia 'for lice' while filming attack
Published time: 17 Jan, 2016 23:52
Edited time: 18 Jan, 2016 19:19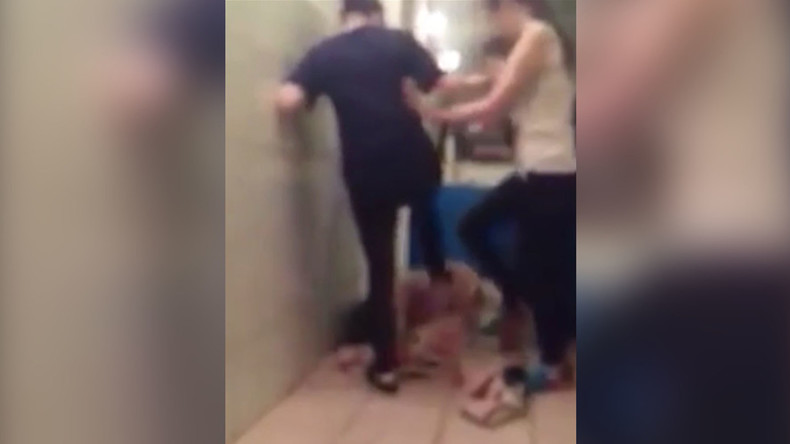 Three college women, aged 17 and 18, brutally beat up a girl in a campus lavatory for allegedly having head lice while filming the attack. The video later appeared on the web, triggering a scandal and an investigation of both the perpetrators and college.
READ MORE: Stabbing death of 15yo schoolboy by 'Arab migrant' classmate in Sweden sparks outrage
The incident occurred on the night of January 11, in the town of Karsun outside Ulyanovsk in the Volga Region, where three female students from a local engineering college had a lasting conflict with another student.
The video (which RT is not attaching for both ethical reasons and it being too brutal)shows at least three girls cuffing and kicking their victim on the head and in the stomach after covering her with a blanket. They also tried to dip the girl's head in the toilet bowl.
"We'll kill you! Spreading lice, how is it normal?" shouted the assailants in response to the victim's plea for mercy. A fourth student – apparently a male – filmed the beating and gave advice to the assailants on what they should do, as can be heard in the footage.
"She'll kick you to death, wanna try?" the assailants shouted as the victim said she could not stand up any longer.
It later emerged that the first year student was from an orphanage, according to RIA Novosti.
She was only identified in the press as Oksana, as she is underage. The main suspects are said to be Irina Azhina and Svetlana Kuklova, both18 years old, and another yet unidentified 17-year-old girl, local 73online reports.
The three allegedly attacked her for having head lice. However, doctors who examined the girl following the incident did not confirm this, Gazeta.ru reports. It is now suspected that this was just used as a pretext for a long-planned assault.
The case caused a public outcry after the video popped up on the internet on Sunday. Police have launched a criminal investigation, charging the attackers with beating, meaning they could face up to three months in prison.
Local officials also said that the Investigative Committee will conduct a check on the college and its administrators, who are being accused of negligence.
READ MORE: Texas 12yo shares inhaler with asthma attack victim, gets 'automatic suspension' from school
The education ministry of the Ulyanovsk Oblast reported that a dormitory supervisor who was on duty when the incident happened has already been fired. She is said to have known about the incident, but failed to take appropriate action.
Pavel Astakhov, Children's Rights Ombudsman for the President of the Russian Federation, proposed introducing criminal responsibility for publishing audio and video recordings of beatings.
"We will have a meeting in the State Duma Safety Committee. I will raise the issue that our deputies should consider introducing an article about the distribution of degrading audio and video records in the Criminal Code," Astakhov said, as cited by RIA Novosti.