Christian monastery in Jerusalem vandalized by alleged Jewish extremists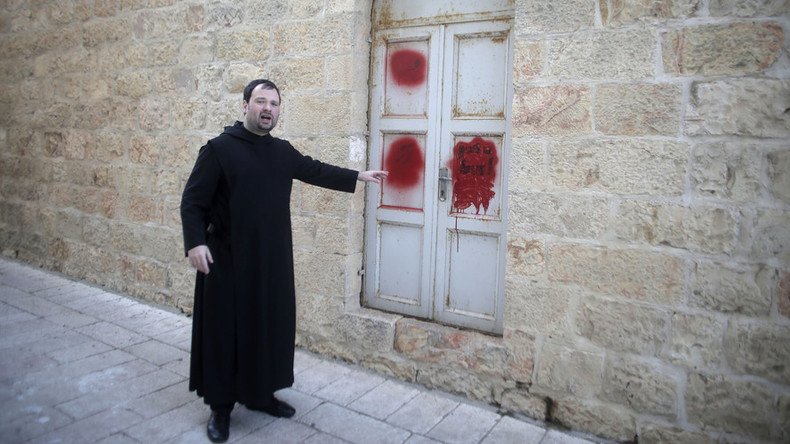 A Christian monastery in Jerusalem has been vandalized after extremist graffiti was daubed on its walls. Messages such as "Christians Go to Hell" were written, while Israel says it has ordered an immediate police investigation into the crimes committed.
The messages written in Hebrew on the walls and doors of the monastery included "erase the name and the memory of the bastard," and "death to the heretic Christians, enemies of Israel."
PM Netanyahu condemned the spraying of anti-Christian slogans on the walls of the Dormition Abbey: police is searching for those responsible

— Ofir Gendelman (@ofirgendelman) January 17, 2016
"Idols will be extirpated," a line lifted from the Jewish prayer service, and "Christians Go to Hell" were among the graffiti written with felt-tip pens, Reuters reports. It is believed that the vandalism was carried out by a number of people, due to the different handwriting, which was visible.
The Dormition Abbey outside of Jerusalem's Old City walls on Mount Zion was affected by the vandals. Many Christians believe that Jesus held the Last Supper near the site, while it is also believed to be located near to the tomb of the biblical King David.
The vandalism brought a stinging response from the Israeli Internal Security Minister Gilad Erdan, who said that extra police efforts would be put into making sure those responsible were caught for "this despicable act."
"We will not let anyone undermine religious coexistence in Israel," he added, as cited by Reuters.
Ayman Odeh, head of of the Joint List, the alliance of Palestinian parties in the Israeli parliament, said that the vandalism amounted to a hate crime, while also saying that the government was partly responsible for ignoring extremism against Arabs.
"Harassment and harming of places that are holy to Islam and Christianity have become almost constant and no one is held accountable," Odeh said, according to the Jerusalem Post.
"In Jerusalem members of the clergy have been harassed for years but lately this phenomenon has become worse, more common, and more violent," he added.
The Latin Patriarchate of Jerusalem described the Dormition Abbey as "a significant place for interreligious dialogue between Judaism and Christianity" and voiced "hope that the perpetrators (of the vandalism) will be arrested before they put proposed threats into action."
Last month, vandals toppled dozens of crosses at a Catholic cemetery, belonging to the Salesian monastery of Beit Jamal, located in the town of Beit Shamesh, about 30 kilometers west of Jerusalem, according to the local Latin Patriarchate.
"Salesian fathers responsible for the monastery in Beit Jamal reported that unknown persons desecrated their monastery's cemetery," The Times of Israel quoted the patriarchate as saying Saturday.
In April 2014, vandals scrawled hate graffiti on the Deir Rafat Catholic monastery in response to peace talks between Israel and Palestine, while disparaging graffiti referring to Jesus and Mary was also daubed on the walls.
You can share this story on social media: