Dutch men put on mini-skirts to support victims of sex attacks (VIDEO, PHOTOS)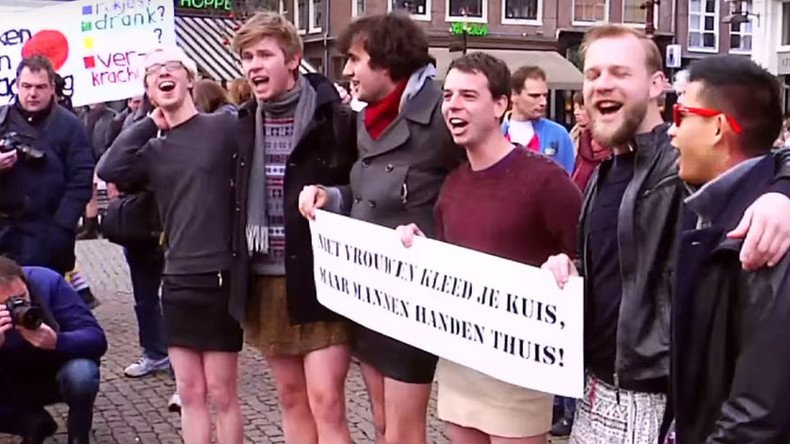 Hundreds of men have taken to the streets of Amsterdam to express their solidarity with the victims of sex attacks that hit the German city of Cologne and other places in Europe on New Year's Eve.
The demonstrators braved the January cold in the Dutch capital, marching in mini-skirts, accompanied by female protesters, too.
One of the demonstrators held a banner that read: "Sexual abuse is not a women's problem."
"Too often sexual violence against women is put down as a [woman's] problem: don't wear short skirts. That is never the solution. Short skirts are not at fault," rally organizers wrote on the event's FB page.
"Therefore we are reversing the [roles] and we celebrate the skirt and the freedom that goes with it. We deploy our hairy knees for a free society in which women can walk the streets undisturbed, day and night, on short-skirt day or in the middle of the winter."
The event's FB page says 399 people registered to take part in the protest.
READ MORE: German swimming pool closed to male refugees after assaults on women
Over 500 complaints were received by the police in Cologne and other German cities in the wake of the New Year's celebrations, and about 40 percent of all complaints received are linked to sex offenses.
Some 1,000 men gathered near the train station, and groups described as migrants attacked women, groping and robbing them.
Currently, police state that some of the attackers were men of "Arab of North African origin," and 19 suspects were detained.
The reports triggered a wave of anti-refugee demonstrations all over Germany, with protesters criticizing Merkel's open-door policy.
Two weeks into 2016, Merkel's party urged for a tougher immigration regime: the secretary-general of the CDU party called on the country's security forces to start deporting 1,000 asylum seekers, denying them refuge.
You can share this story on social media: