Stash in the attic? Miami millionaire demolishes $10mn mansion to find drug lord Escobar's treasure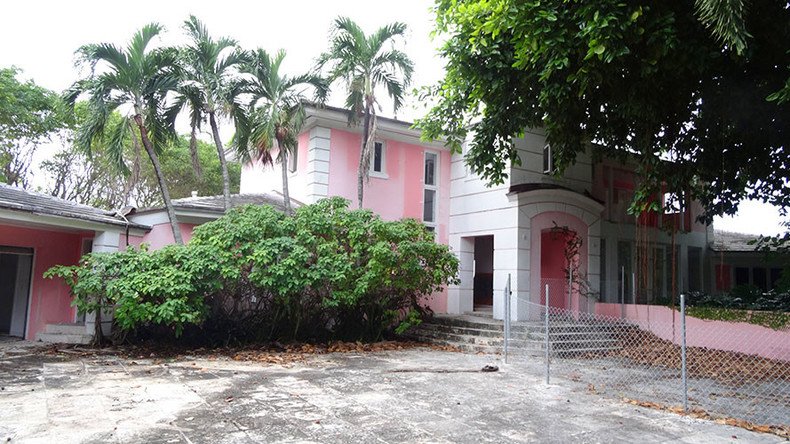 A Miami Beach mansion that used to belong to Colombian drug lord Pablo Escobar is being demolished by its current owner – in an effort to find cash, gold and jewelry believed to be literally stashed under the floorboards.
A team of specialists with metal detectors and sonar equipment has been called to the site by Christian de Berdouare, who bought the property in 2014. De Berdouare, who owns fast food chain Chicken Kitchen and is known as one of Miami's most eccentric millionaires, says he's aimed "to determine if there is anything hidden."
The walls and floors of the house might be stacked with treasure as Escobar "used to hide money in all his houses," de Berdouare told AFP. But he is prepared for "anything," he added, saying that some less pleasant findings might await him.
"It could be cash, could be gold, could be jewelry, could be dead bodies – could be anything," he said, adding that drugs could also be hidden in the house. Escobar's drug cartel was responsible for most of the cocaine imported into the US in the 1980s and early 1990s.
Yet it is not clear whether the fabulously wealthy Colombian drug lord ever visited his Miami Beach property. It was seized from him by the US government in 1987. Escobar was killed six years later in a special operation in Colombia.
READ MORE: Mexican drug lord 'El Chapo' caught because he wanted to make biopic – authorities
The demolition started this week, with no findings having been reported so far. But it might take up to three weeks to dismantle the mansion, de Berdouare said.
When the 7,300-square-foot (680-square meter) villa was purchased for $10 million, the fast food magnate said the property's location rather than its history made him buy it. Saying that he didn't find connections with drug lords attractive, de Berdouare claimed he planned to demolish the house anyway and build another home on the site.
You can share this story on social media: