Turkey's security knew about possible attack, failed to stop it - reports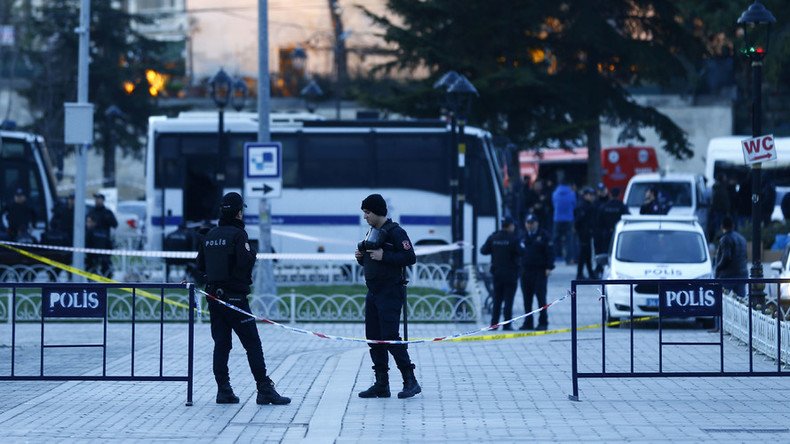 The Turkish National Intelligence Organization (MİT) issued warnings to security forces that Islamic State (IS, previously ISIS/ISIL) terrorists were targeting tourists and foreign mission buildings prior to Tuesday's attack in Istanbul, Hürriyet reports.
The intel warnings were sent to security units near the country's borders, Turkish police and the anti-terror units of Istanbul and Ankara on December 17 and January 4.
According to Hürriyet, it was known that Islamic State was "in preparations for attacks on NATO representative offices, embassy and consulate buildings, spots where foreign citizens are populated and tourists… Suicide bombers have entered the country and it is evaluated that they might have entered Istanbul and Ankara." The warnings also included a list of potential suicide bombers, 19 of whom were Syrian nationals.
READ MORE: At least 10 foreigners killed, 15 wounded in suicide bombing on central Istanbul square
The report comes a day after a suicide bomber carried out an attack in central Istanbul which reportedly killed 10 foreigners, mostly German tourists, and injured 15. According to local authorities, the terrorist was a Saudi Arabian, possibly a member of IS.
Dozens of suspects were arrested after the assault, at least three of whom are Russian nationals, media report.
The number of people taken into custody in connection with the attack in Istanbul varies in different sources. According to the Anadolu news agency, authorities detained at least 66 people in different regions of Turkey, meanwhile TASS reports 70 people arrested.
"According to Turkish data several dozen (around 70) suspects have been arrested immediately after the attack," TASS cites a Russian security source as saying. "Considering the arrests were made in hot pursuit, though these people didn't carry out the attack themselves, the suspects were all monitored by Turkish security. Which raises the question – why weren't any measures taken to prevent the attack?" – the source said.
Turkey has seen an increasing number of terror attacks in recent years, most of them said to be related to Turkish Kurds' main militant group, the PKK (the Kurdistan Workers' Party).
READ MORE: Powerful explosions kill dozens at peace rally in Ankara
However, authorities suspect that IS could also be connected to the latest outbreaks of violence, including the Ankara attack in October 2015. In that incident, around 100 people lost their lives and scores were injured in a double suicide blast at a peace rally in the Turkish capital.
You can share this story on social media: