Yes, they can: Appeal on US military base deal in Philippines doesn't wash with court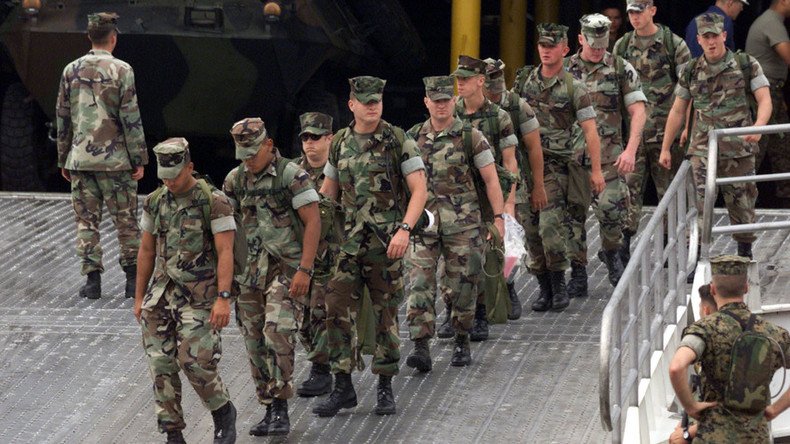 The Supreme Court of the Philippines has rejected an appeal filed by left-wing politicians, which sought to declare unconstitutional a deal that gives US troop access to military bases of the island nation.
The Enhanced Defense Cooperation Agreement (EDCA) was signed in 2014 days before US President Barack Obama visited Manila. It allows the Pentagon to rotate troops to the Philippines for prolonged periods, gives them access to eight military bases, allows for the construction of new facilities there and storage of materiel, with the exception of nuclear weapons.
The deal was opposed to by some Filipino politicians and activists, who said it was a de facto deal to host American military bases and turned the Philippines into a "a launching pad for military intervention in the region." They also said the EDCA was an international treaty and subject to ratification by lawmakers and not enacted by the executive.
The Supreme Court postponed ruling on the deal several times before finally ruling it constitutional on Tuesday. Judges voted 10-4 to reject the petition as dozens of protesters demonstrated outside of the court building.
The pact "is a mere implementation of existing laws and treaties," said Supreme Court spokesman Theodore Te.
The US embassy in Manila welcomed the verdict.
"EDCA is a mutually beneficial agreement that will enhance our ability to provide rapid humanitarian assistance and help build capacity for the Armed Forces of the Philippines," it said in a statement.
READ MORE: China lands 1st civilian plane on disputed islands, sparks neighbors' military fears
The Philippines, a former US colony, has been a close military ally of Washington for decades. The EDCA is viewed by US officials and military experts as essential for the 'pivot' to Asia announced by the Obama administration.
Manila benefits from the deal by getting greater leverage in its conflict with China over a disputed region of South China Sea, where the two nations along with four others claim sovereignty over the Spratly Islands.
China recently has been reclaiming artificial islands in the region and placing civilian and military infrastructure on them in an apparent bid to further its claim. The US is opposing Beijing by sending warplanes and navy ships through the disputed area.
You can share this story on social media: