'For ISIS': Machete-wielding Turkish student assaults Jewish teacher in France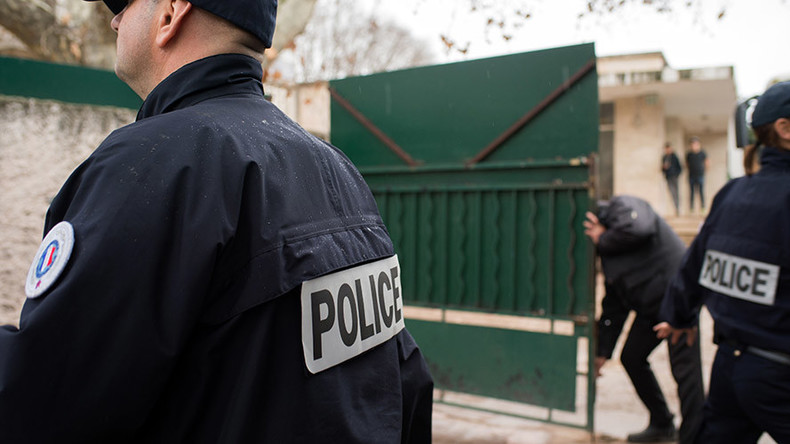 France saw another terror attack attempt on Monday, as a radicalized student from Turkey attempted to stab a Jewish teacher in the southern city of Marseille. The latest stabbing attack has been linked to the Islamic State terrorist group.
The assault took place outside a Marseille synagogue. The victim was reportedly wearing a Jewish religious cap known as yarmulke or kippah, according to French television station BFMTV.
The 15-year-old attacker, whose name has not been disclosed, told police that he had acted in the name of Islamic State (IS, previously ISIS/ISIL), according to prosecutor Brice Robin, as quoted by AFP.
READ MORE: School in northern France evacuated over bomb alert
The attack took place in broad daylight, with the 35-year-old teacher receiving injuries to his shoulder and hand, Robin said at a press conference.
The teenager, reportedly an ethnic Kurd, attacked the teacher from behind and ended up chasing his victim before tripping and falling to the ground. The teacher, who was on his way to work at the Franco-Hebraic Institute, tried to kick the attacker away and used the Torah in his hands as a shield. Eventually, the teen dropped his bloodied machete and fled the scene.
The suspect is believed to have "the profile of someone who was radicalized on the internet," according to the prosecutor. "He claimed to have been acting for Daesh [the Arabic name for IS]," he said.
The knifeman's family was unaware of his radicalization. He was described as a "good student." "You get the sense that he does not have a full grasp of the fundamentals of Islam," Robin added.
The teenager has also told investigators that he plans to attack police as soon as he is released. He was quoted as saying: "the Muslims of France dishonor Islam and the French army protects Jews."
"It appears there was a form of premeditation," the prosecutor said, referring to the teen's intention to kill the teacher.
The attacker is facing charges of "attempted murder on grounds of religion" and "defense of terrorism."
French President Francois Hollande has assured French citizens that the authorities will battle "with the greatest firmness against anti-Semitism and racism" and described the attack as "unspeakable and unjustifiable."
This past weekend, France marked a year since an attack on the Charlie Hebdo newspaper and a kosher supermarket left 17 people dead.
This is the second such assault in the city of Marseille in the last two months. On November 18, three people stabbed a Jewish teacher in the name of IS as they shouted anti-Semitic insults. The teacher received injuries to the arms, legs, and stomach.
The French Jewish group CRIF called for urgency "to get at the roots of this scourge, and those who ... propagate it on the Internet," adding that Jews in France are caught in "a spiral of hatred that doesn't seem to want to stop."
You can share this story on social media: