Swedish police accused of covering up sexual assaults committed by refugees at music festival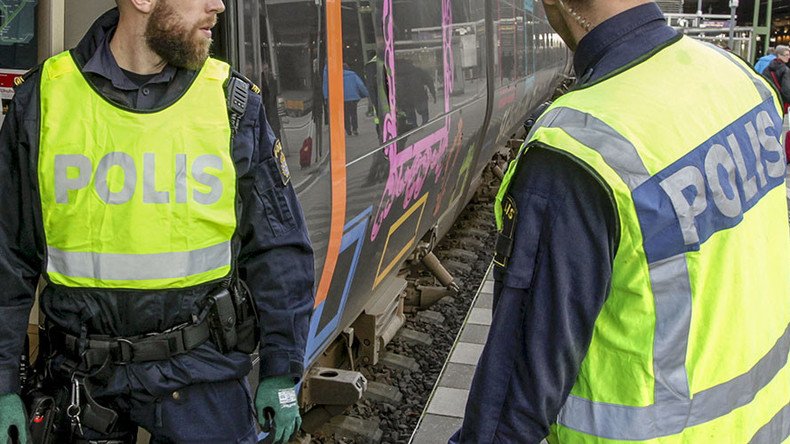 Swedish police are accused of covering up mass sexual assaults allegedly committed by refugees at a music festival. It follows claims that gangs of youths, mostly from Afghanistan, molested girls as young as 11 or 12 at the annual event.
According to Dagens Nyheter newspaper, an internal police report on the 2015 'We Are Sthlm' festival stated that "the problem of young men rubbing themselves up against young girls returned as in previous years."
"These are so-called refugee youths [mostly] from Afghanistan...the [group] was also responsible for several fights during the evening," police wrote.
Noting that the youngest victims were only 11 or 12, an unnamed officer admitted that he would "never have let my own daughter [go to] the festival if I knew what happened."
However, when Stockholm police made a public statement on the event, it said there had been "relatively few crimes" considering the large number of festival-goers.
The police force has been accused of covering up the sexual assaults committed by refugees, with Officer Peter Agren – who was in charge of policing at the festival – calling the accusations a "sore point."
"We sometimes dare not to say how it is because we think it might play into the hands of the Sweden Democrats," an anti-immigration party, he said.
Stockholm Police's head of communications, Varg Gyllander, said it was wrong to not speak openly about what took place at the festival, Radio Sweden reported.
"As [the person responsible for communications] in Stockholm, I am self-critical, we should have communicated that. I actually do not know why it did not happen," he said. "I actually do not know why it did not happen."
"...The problem is probably not the police work as such, but that we have failed to communicate what has been done and what has happened," Gyllander added.
Meanwhile, Sweden Democrats MP Bjorn Soder told Expressen: "It is a scandal without equal. This must be investigated immediately. Could this be something that happened at several locations in the country, that they do not bother to tell you certain things because it could 'play into the hands of a particular party'?"
'We were touched everywhere'
Speaking to Dagens Nyheter, a girl referred to as Anna, now 15, recounted that she and her friends had been repeatedly encircled and sexually molested by a group of boys at the festival.
She noted that festival guards merely spoke with the boys, and sometimes removed them from the area, but they would return to the same spot almost immediately.
A girl referred to as Fanny, now 17, also recalled her experience of sexual assault at the festival, stating that she and her friends were touched on their buttocks, breasts and "everywhere."
"You felt powerless, it was not really nice. When we tried to take us out, they tried to stop us and some hit us," she told Aftonbladet.
She said she didn't report the event to police because she "saw no cops, [and] it [is] difficult when one does not know whom to notify."
The Dagens Nyheter investigation has found that no one has been held to justice for the crimes committed. National Police Commissioner Dan Eliasson has promised a review of the officers' actions following the assaults, telling Expressen newspaper that he will "see that this is being investigated." Police Union president Även Lena Nitz has also called for a thorough investigation.
Not the first time
The violence, which began on the first day of the festival, was not unexpected, as similar crimes had taken place at the 2014 event – including one incident in which the fingers of a male were reportedly inserted into a girl's vagina.
Guards, volunteers, and police officers had reportedly been instructed to be especially alert and intervene at the slightest sign of trouble.
"We had talked a lot about this, and developed a strategy for how we would monitor the crowd and [be ready] to make rapid interventions," Agren said.
Over the course of five days, 200 young males were removed from the premises under the Public Order Act. However, many of the crimes went unreported because victims did not see any officers in the vicinity, or they could no longer identify the whereabouts of the perpetrators due to the large crowds.
The annual 'We are Sthlm' festival is aimed at young people between the ages of 13 and 19, and usually draws around 200,000 visitors.
The reports come as the German city of Cologne faces a similar scandal, with authorities accused of covering up the role of asylum seekers in a string of sexual assaults on New Year's Eve.
Both Sweden and Germany have become known for their pro-immigrant stance in recent years, with Sweden becoming the first country to offer permanent residence to all Syrians. It has accepted more asylum seekers than any other European country, relative to population size. It did, however, announce a crackdown on immigration at the end of last year, after several local authorities stated they could no longer accommodate the influx of refugees.
You can share this story on social media: