German police fire water cannons at PEGIDA protesters in Cologne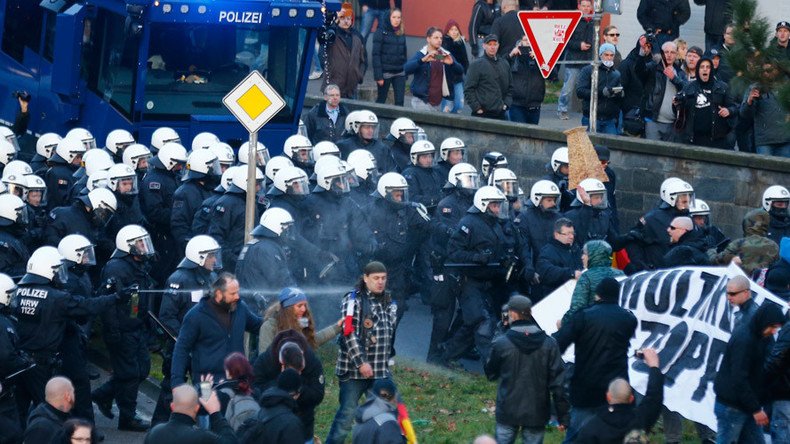 German police have used water cannons to disperse PEGIDA demonstrators in Cologne. The anti-immigration movement were rallying against a rash of assaults on women, blamed on migrants in the city on New Year's Eve.
Over a thousand supporters of the far-right movement took part in the protest in the center of the western German city on Saturday. They chanted "expulsion," while waving German flags and other banners inscribed with slogans such as "Rapefugees not welcome."
"Merkel must go" was another popular rallying cry with the demonstrators. The far-right supporters are infuriated with German Chancellor Angela Merkel for her soft stance on refugees, and statements that the country could accept over a million asylum seekers.
Scuffles between the police and PEGIDA supporters started after the demonstrators hurled firecrackers and beer bottles at law enforcers. When they continued to throw projectiles, police deployed two water cannons and used pepper spray to disperse the group. Supporters of the anti-immigration movement were then herded towards an area near the city's station.
The police in Cologne could also be seen making a number of arrests of those supporting the PEGIDA movement. A police spokeswoman said the PEGIDA protest had attracted some 1,700 people, half of whom she described as coming from the "hooligan scene," Reuters reported.
Supporters of PEGIDA were met by a counter-demonstration from leftist groups and activists. The two rival factions were kept apart by a large police presence.
The anti-PEGIDA supporters chanted "Nazi pigs" and "Nazi's out." One slogan on a sign held by a demonstrator read: "There is nothing right about Nazi propaganda," while another stated: "Fascism is not an opinion, it is a crime," AFP reported.
On Friday, Chancellor Merkel announced she would be taking a tougher stance against refugees who break the law.
The number of cases filed because of violence during the New Year's celebrations has reached 379, police said in a statement on Saturday. It added that 40 percent of the cases related to sexual assault.
"Those in focus of criminal police investigations are mostly people from North African countries. The majority of them are asylum seekers and people who are in Germany illegally," police said.
READ MORE: Merkel's party proposes tougher laws on asylum-seekers in Germany
"The right to asylum can be lost if someone is convicted on probation or jailed," Merkel said on Saturday, following a meeting of the leadership of her Christian Democrats (CDU) party, as cited by Reuters.
"Serial offenders who repeatedly rob or repeatedly affront women must feel the full force of the law," Merkel told journalists in Mainz, adding that she would look to stem the flow of refugees crossing Germany's borders.
You can share this story on social media: