US military put on highest alert ever after N. Korean nuke test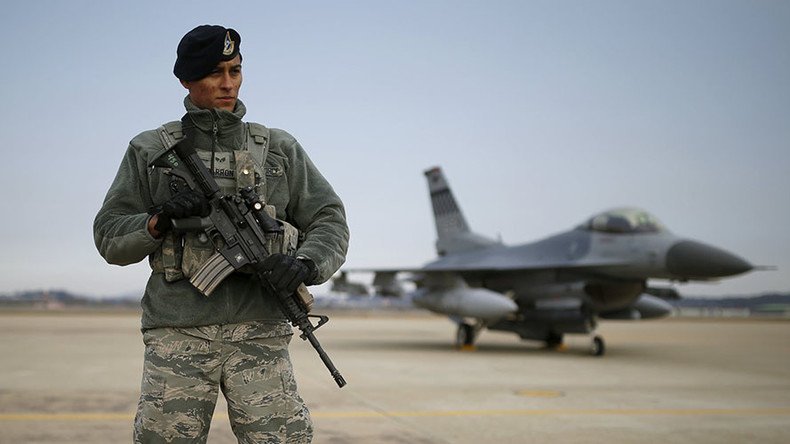 US troops stationed in South Korea have been put on the highest alert ever to deter "any provocation coming from North Korea," following Pyongyang's latest underground nuclear test, an official from United States Forces Korea said, as cited by Reuters.
The order was announced by Curtis Scaparrotti, the head of US military deployment in South Korea, who was visiting the Osan airbase, run by Washington and Seoul.
Scaparrotti was touring the base, which is 55 kilometers south of the capital Seoul, together with South Korean Joint Chiefs of Staff Chairman General Lee Sun-jin.
"Following the North's recent nuclear test, its military is highly likely to push ahead with further sudden provocations," Lee said, as cited by the Yonhap news agency.
READ MORE: S. Korea in constant talks with US over additional deployment of 'strategic assets'
The base inspection came a day after Washington deployed a strategic B-52 bomber on a low altitude demonstration flight over South Korea, to flex the alliance's muscle and indicate determination following North Korea's latest nuclear test.
The US B-52 Stratofortress bomber, escorted by an F-16 fighter aircraft, took off from Andersen airbase in Guam and was escorted by one of Seoul's F-15 fighters during its flight over the Osan airbase. The long range strategic bomber then returned to Guam.
Tensions in the Korean peninsula are running high after Pyongyang recently claimed to have tested a new H-bomb, raising concerns over the security of the region. However, experts later agreed the device was an atomic bomb similar to those in three previous tests.
Earlier this week, the UN Security Council unanimously condemned North Korea's most recent nuclear test, which was carried out Wednesday.
Pyongyang says developing a nuclear weapon was important in order to protect itself against US interference in North Korean affairs, and that the bomb can defend Pyongyang against any invasion.
You can share this story on social media: