'Staff kept hiding from me:' Partner of patient beaten up to death in Russian hospital speaks out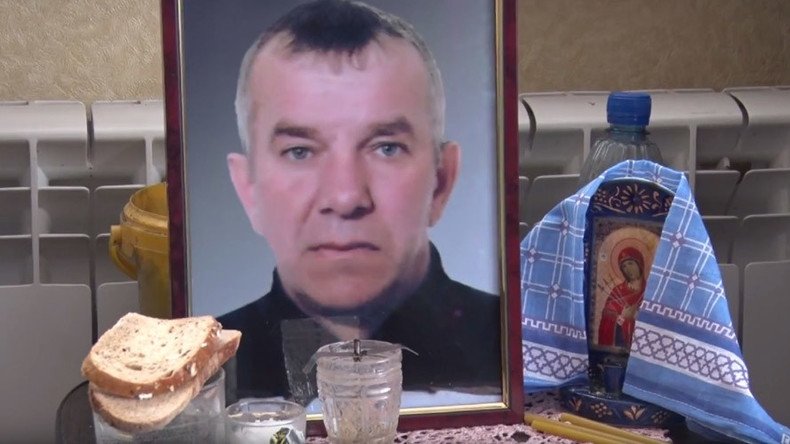 A friend of a patient who died when a doctor knocked him out in a fight, says he didn't receive any help from the medics at the hospital after he had also been brutally beaten by the doctor. The deceased man's partner said the staff were hiding away from her too.
The man killed in a Belgorod hospital in Russia after having been hit on his head by a doctor applied to the hospital feeling very unwell, his family told local Belive.ru source. Evgeny Vakhtin, 56, vomited blood before he went to see doctors with a suspected case of gastrointestinal bleeding, his partner of 11 years Inna Sergeeva said.
The woman, interviewed by Belive.ru, said that she spent that day in another hospital with her mother, so couldn't accompany her partner to the hospital late in the evening, and asked their close family friend to go with the man first.
"He was having a gastric lavage procedure, I was there to support him. When he swallowed the tube, the nurse told him how well he was doing... And then he accidentally kicked his leg and hit the nurse. It wasn't a direct, intentional hit, it was done reflexively, he was having a tube in his stomach," Aleksandr Avilov said.
There have been reports that alleged that the man somehow "rudely offended" the nurse or even sexually harassed her. Some reports suggested the man was drunk.
"I apologized to her for him, saying it was accidental," the eyewitness added, with the nurse allegedly replying: "So is every other man allowed to hit me now?" The two men were then directed to another ward for more check-ups, Avilov said.
It was then that a male doctor stormed in with the nurse, who pointed her finger at Evgeny, immediately after which the medic launched his attack – first on the sick man, and then on his friend who tried to interfere.
"I tried to tell him: 'What are you doing? We are in hospital!' but only received a series of blows myself," Avilov said.
The incident was recorded by a security camera. It shows how two men are beaten by the doctor both with his hands and legs. Vakhtin died from a head injury, while his friend received a number of non-lethal injuries to his head.
When the patient's partner rushed to the hospital after a phone call from their friend, what she witnessed was an utter negligence from the staff, she said.
"Aleksandr sat in the hall, all covered in blood, with his nose still bleeding... Nurses were sitting across from him, but he wasn't even given a simple gauze pad," the shocked woman said.
She added that it took her quite a while to find out where her husband was, as the hospital staff had refused to help and locked doors in front of her. When she eventually learned from her friend that a fight had occurred, she wanted to speak to the doctor who hit her partner, but was told by the chief doctor that his subordinate "was not at the hospital."
"I called the police and said that a doctor killed a patient at the hospital," she told Belive.ru.
While waiting for police to arrive, the woman "accidentally" saw the doctor who hit her partner. A lawyer was already with him, the woman said.
"I told him: 'What have you done?' And he said he was sorry and didn't mean to... 'But you're a doctor, why haven't you called the police or security if there was some sort of a scandal?' I asked him. When he said that he was ready to have his hands chopped off, I replied that doctors like him should have their heads severed [instead]," the woman recalled.
When she confronted the doctor as of why another man was also beaten, he said he was protecting himself as "the man might have had a knife." "But the video clearly shows that it wasn't [the doctor's] self-defense, it was some kind of a frenzy," the woman said.
The video of the incident that happened on December 29 last year, emerged online this week, causing public outrage. While Russia's Investigative Committee has launched a criminal case against the doctor under the article "infliction of death by negligence," many argue the doctor should be charged under a different article, which carries a more severe punishment. Currently, if found guilty, the doctor faces up to two years in prison.
The doctor has reportedly been fired from the hospital.
Taking into consideration the wideness of public attention the case has attracted, head of Russia's Investigative Committee Aleksandr Bastrykin brought the case "under [his] personal control," the committee chief spokesman Vladimir Markin announced.
You can share this story on social media: