'You touched my nurse': Russian doctor hits & kills patient in hospital (VIDEO)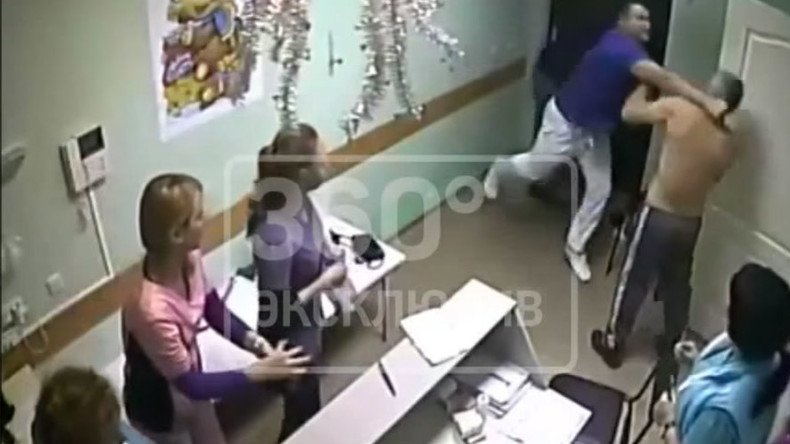 A video of a well-built male doctor knocking out a patient in a hospital in the Russian town of Belgorod has emerged online. The man died, while his companion, who tried to stand up for him, was also brutally beaten by the doctor.
The incident happened on December 29 last year in municipal hospital of Belgorod in southwestern Russia. The violent attack was captured by the hospital security camera, and emerged online days later, with some 700,000 people having watched it in a day.
In the video, a half-naked patient is seen being checked up, when suddenly a male doctor storms in, accompanied by a nurse. The woman points her finger at the man, and the doctor, shouting, "you touched my nurse," pulls the man off the couch and hits him hard on the head.
When another man who accompanied the patient to the hospital tried to interfere, he was also brutally beaten by the doctor. Shouting "have you understood me?" the doctor kept hitting both men while they were on the floor. Nurses pleaded for him to stop.
After the enraged doctor eventually left the room, a woman's voice – apparently the offended nurse's – can be heard explaining to her colleagues behind the door that the patient was asked to lie down calmly during a procedure, but didn't follow her orders.
It's only after some two minutes that they appear to notice that the unconscious patient on the floor is not moving. "Are you alive?" his friend asks him, before warning the medics that something's not right.
In the next eight minutes, the nurses summon an emergency room doctor to the scene, while the doctor who hit the patient attempts to bring him back to life. The man is then seen being dragged from the camera's view, while a cleaning lady washes the floor. The emergency doctor never appeared in the video.
The man died of a head injury, officials said. He reportedly arrived in the hospital with complaints about stomach pain. In the video, the medics are heard discussing whether he was drunk or not.
Russia's Investigative Committee has launched a criminal case against the doctor under the article "infliction of death by negligence." If found guilty under it, the doctor faces up to two years in prison. The doctor has reportedly been fired from the hospital. Russia's Health Ministry has launched its own check in Belgorod.
You can share this story on social media: