Calais Jungle to convert into smaller 'permanent' migrant camp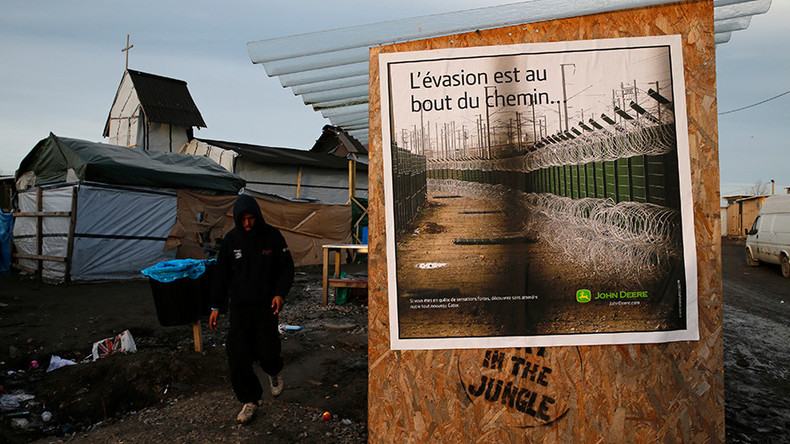 The French port city of Calais is getting rid of the "Jungle" refugee slums by turning the makeshift camp into a smaller permanent facility that will better accommodate the needs of the migrants stuck in Calais on their way to the UK.
The prefecture of Pas-de-Calais announced that starting Monday the Calais jungle, currently home to around 4,000 migrants, will be gradually downsized to about 1,500. The rest of the refugees hoping to cross the English Chanel or join family members in the UK are being encouraged to leave.
"Our goal is that no more migrants sleep outside in campement de la lande (Calais Jungle)," said the prefect of Pas-de-Calais Reeve Fabienne Buccio.
Those 1,500 lucky ones will find better accommodation as part of a €25 million ($27.3mn) plan to improve living conditions of the Jungle residents. They will be housed in "125 containers" each adapted for 12 people.
On Monday the city plans to move some 400 people to a local shelter for women and children. The rest, those not offered beds in Calais, are encouraged to leave and seek shelters at "reception and orientation centers (CAD)" elsewhere in France, said Buccio.
"A hosting solution is now available to all," he added. As of Friday, according to Buccio, some 1,895 people have already agreed to relocate. Various associations and NGOs will help in the relocation process.
Between 3,800 and 4,200 migrants were living in the slums of the "Jungle" at Christmas time in makeshift homes and unsanitary conditions. Back in October the camp was home to around 6,000 people.
Reducing the size of the camp will "reduce" health related concerns, a state official told AFP. The reduction of the number of migrants will also provide better security for thousands of lorries that cross the British Channel, whose truck drivers are often subjected to attacks by refugees trying to make it into the UK.
"The priority is to distance migrants one hundred meters from the ring road, for their own safety, the safety of road users," the official said, adding that having fewer migrants will also "preserve the tranquility of residents."
You can share this story on social media: