Syrian refugees pepper sprayed after 'welcoming event' at Vancouver Muslim center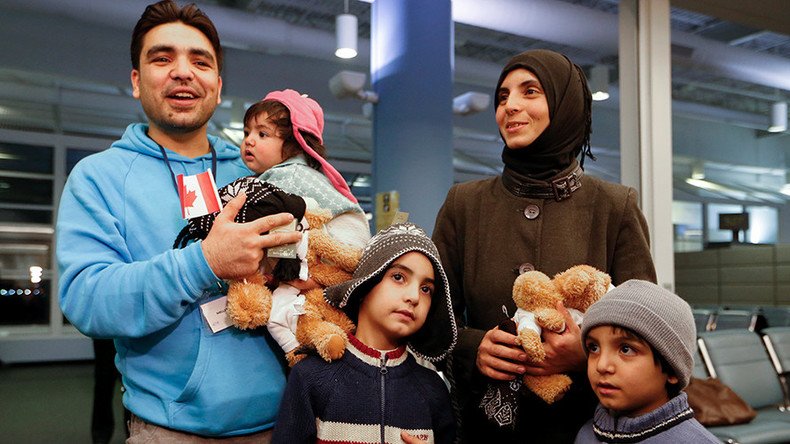 Police are searching for a man who pepper sprayed a group of refugees, which included children, near the Muslim Association building in Vancouver as they were gathering for a welcoming event, local media reported.
The incident happened on the Kingsway near Victoria Drive around 10:30pm local time on Friday as people were waiting for a bus, CBC news reported.
An unknown man wearing a white hoodie pepper sprayed the group of up to 30 Syrian refugees while passing by on a bike. According to a CBC reporter on the scene some of those who were pepper sprayed were "very young children."
Children, women and men were treated for exposure as ambulances arrived at the scene. "A number of people" were treated, said Sgt. Randy Fincham in a statement. Reports suggest there were no serious injuries.
"The motive for the pepper spraying is unknown at this time," he added.
The Vancouver Police Department has launched a search for the offender.
"We were just standing outside and we all just started coughing and our eyes were burning. We were really confused about what was going on," seventeen-year-old Nawal Addo who was with the group told CBC.
The Vancouver Muslim Association center was holding a welcoming event for Syrian refugees on Friday to help them connect with their new community, according to the center's Facebook page.
Canadian Prime Minister Justin Trudeau has condemned the attack on Syrian refugees in Vancouver in a statement published on Twitter.
Canada had welcomed up to 6,000 Syrian refugees by January 1 and is ready to host 4,000 more my mid-January, according to the country's Minister of Immigration, Refugees and Citizenship John McCallum.
READ MORE: Mosque in Ontario set on fire, police investigating
In the wake of the Paris terror attacks on November 13, there have been assaults on Canada's Muslim community. Among the incidents was one where a mosque in Ontario was set on fire and a woman wearing a hijab was attacked near Toronto elementary school in November.
You can share this story on social media: