Hong Kong police search landfill for missing newborn dumped in binbag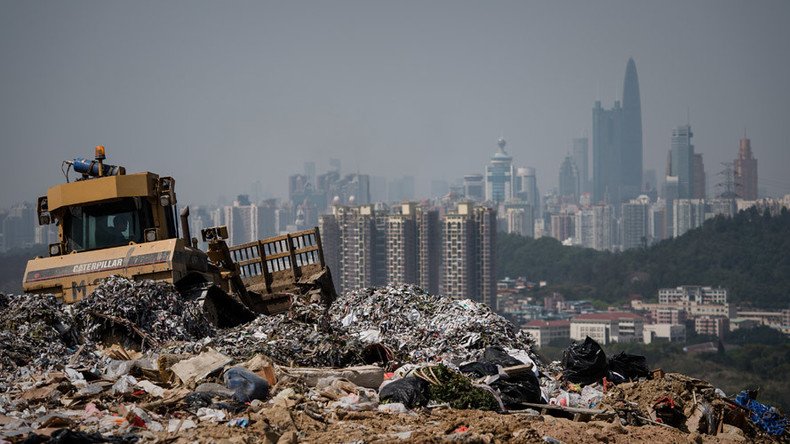 A desperate search for a Hong Kong newborn, lost after having been dumped in a bin bag, continues as local police turn to last-resort measures, including sifting through garbage at a local landfill.
Officers wearing protective clothing used spades to search through waste being unloaded from containers at the Nim Wan landfill, Hong Kong, on Wednesday.
A 37-year-old woman is understood to have thrown the premature baby in a bin, after taking an abortion pill and giving birth on Wednesday. She is believed to have been eight months pregnant.
READ MORE: Heartwarming pics of Beijing hero cop rescuing baby girl from public toilet (PHOTOS)
The Filipino woman complained of feeling unwell and an examination in hospital revealed she had given birth. The mother of the newborn, a former domestic helper, was on a working visa which expired in 2014.
According to reports, after giving birth the woman put the baby in a black plastic bag in a bin at City Garden in North Point. Police recovered blood-soaked towels from the woman's home, but the woman would not reveal whether the baby was alive or dead.
"Initial investigation showed that the woman delivered a baby shortly after midnight [on Wednesday] and that the baby was dumped into a rubbish bin in Electric Road near City Garden," a source with knowledge of the process said, according to the South China Morning Post.
After the unsuccessful search of bins in the area police were told that the rubbish collected was sent to the Nim Wan landfill.
Police believe that the chances of finding the newborn alive are very slim because "the mother allegedly took medication to terminate the pregnancy and the baby was born premature," the South China Morning Post reported.
In 2014, police searched the landfill for a baby believed to have been dumped and did not find him.
You can share this story on social media: