Kenyan primary school teacher sentenced to 20yrs for recruiting students into Al-Qaeda affiliate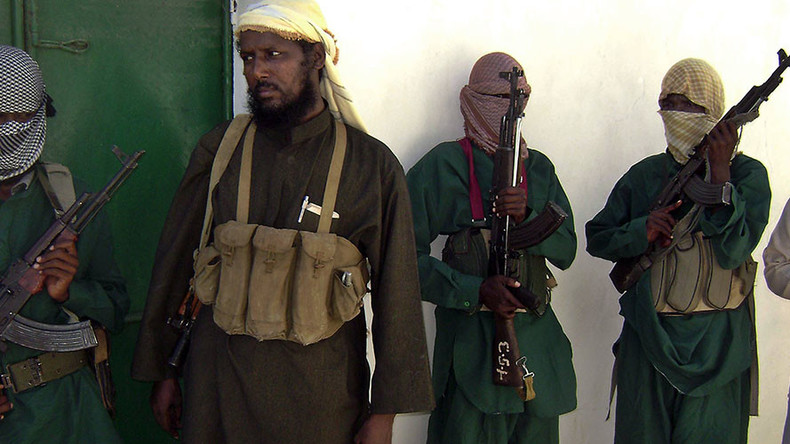 A Kenyan primary school teacher who recruited students into the Islamist militant group al-Shabaab in neighboring Somalia has been sentenced to 20 years in jail. The judge ruled the teacher baited poverty-stricken children with incentives such as food.
The teacher, Samuel Wanjala Wabwile – who also went by the alias Salim Mohamed Wabwile – was found guilty on Thursday.
"The accused preyed on the pupils' feeble minds to impart his ideological beliefs," magistrate Diana Mochache said, according to Reuters.
The judge ruled that Wabwile had taken advantage of the children's extreme poverty, baiting them with incentives such as food if they agreed to join the militant group.
Wabwile was arrested in June 2015 and charged with three counts, including being a member of al-Shabaab. The court convicted him of radicalizing his students during Islamic lessons at the school where he taught in Kilifi, in violation of an anti-terrorism law.
Officials say dozens of youths have crossed into Somalia in the past three years for training by the militants, after being recruited and radicalized at home.
Al-Shabaab, which has pledged allegiance to Al-Qaeda, seeks to overthrow the Western-backed Somalian government and impose its strict interpretation of Islamic law. It has launched a number of deadly attacks in Kenya, presumably because of the country's participation in an African Union peacekeeping force in Somalia.
The group was blamed for an attack on Garissa University in April last year, which killed 148 students. One year prior, al-Shabaab killed 65 people in a 24-hour period in and around Mpeketoni. It was also responsible for a raid on Nairobi's Westgate Mall in 2013, which killed 67 people.
Although Al-Shabaab officially remains loyal to Al-Qaeda, around 200 of its fighters pledged allegiance to Islamic State (IS, formerly ISIS/ISIL) in December. Those defections, along with others, are causing tensions within Al-Shabaab, according to AP.
You can share this story on social media: