US-made cluster bombs used by Saudi-led coalition in Yemen attacks - HRW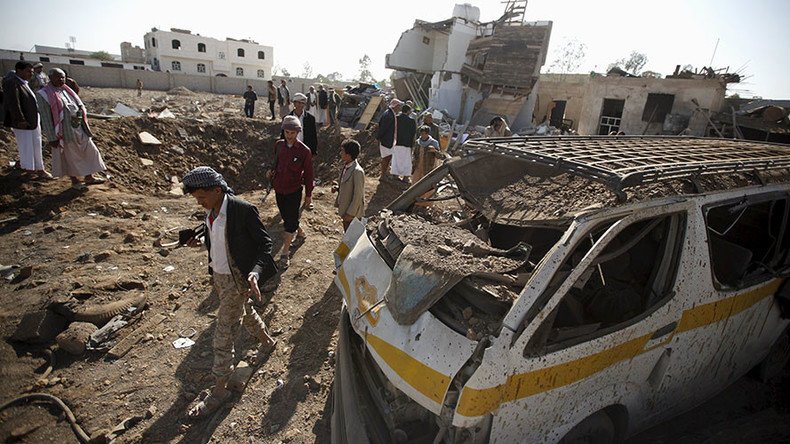 Cluster munitions sold to Saudi Arabia by the US were used in attacks on residential neighborhoods in Yemen's capital of Sanaa, Human Rights Watch (HRW) said, calling for an international inquiry into the alleged war crime.
Saudi-led coalition forces seriously violated the laws of war by airdropping the "indiscriminate weapon" on populated areas in the Yemeni capital on January 6, HRW said in a report published on Thursday.
"The coalition's repeated use of cluster bombs in the middle of a crowded city suggests an intent to harm civilians, which is a war crime," HRW arms director Steve Goose said, adding that these attacks are "outrageous."
While no civilian casualties of the attacks on Wednesday have been reported as yet, cluster munitions have damaged residential buildings and cars, HRW said citing eyewitnesses. "Many homes and a local kindergarten with newly pockmarked walls and broken windows" could be seen in the attacked residential areas, the human rights organization said.
HRW also oversees an international treaty banning cluster munitions.
"Human Rights Watch viewed photographs taken on January 6 in Sanaa that showed unmistakable remnants of cluster munitions, including unexploded submunitions," HRW added.
The nearest "small" military targets including an office and a garage used by military guards, at which the strikes might have been directed, were hundreds of meters from the populated areas that were hit. "The use of cluster munitions meant they [the attacks] were still unlawful," the organization said.
The human rights advocacy group identified the munitions "as US-made BLU-63 antipersonnel/anti-material submunitions and components of a CBU-58 cluster bomb."
It added that parts of the bomb remnants had markings indicating that it was manufactured in the US in 1978. According to US export records obtained by HRW, Washington transferred 1,000 such bombs to Saudi Arabia sometime between 1970 and 1995.
"The US is a party to the armed conflict in Yemen, playing a direct role in coordinating military operations, and as such, is obligated to investigate alleged violations of the laws of war in which its forces took part," HRW said in its report, adding that an independent, international inquiry into the alleged violations should be set up by the UN Human Rights Council.
"It may have been 20 years since the US last provided cluster munitions to the Saudis, but they are being used to kill civilians now," Goose said, adding that if the US fails to prevent any further use of such munitions by the coalition, it risks "becoming complicit in their use."
Nearly 2,800 civilians have been killed in the ongoing conflict in Yemen, the UN said earlier this week. At the start of the year it was reported that the Saudi-led coalition might resume its bombing raids on Houthi anti-government forces in Yemen, after it decided to end a previously agreed ceasefire.
You can share this story on social media: