Saudi-led coalition ends Yemen ceasefire – state media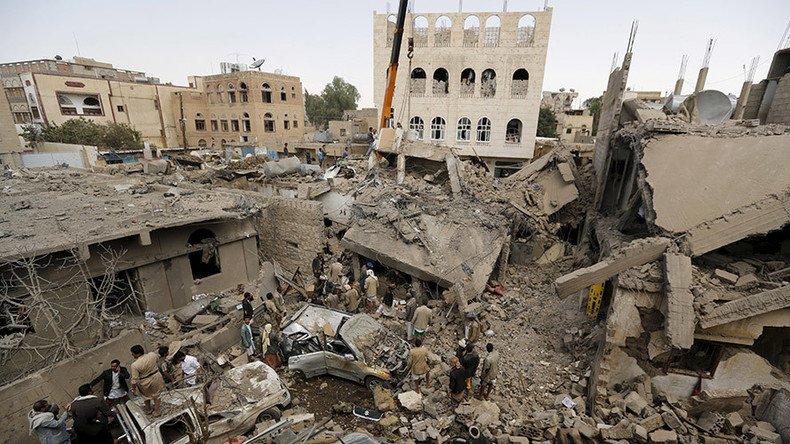 Saudi Arabia-led coalition could resume bombing raids in Yemen that are targeting Houthi rebels after it decided to end a ceasefire that had begun on December 15.
The break in fighting between the Saudi-led coalition and the Houthi anti-government forces had been regularly broken by both sides over the last couple of weeks.
"The leadership of the coalition supporting legitimacy in Yemen announces the end of the truce in Yemen beginning at 1400 (1100 GMT) on Saturday," the Saudi Press Agency said, as cited by Reuters.
The agency added that the decision had been taken to call off the ceasefire because of continuous rebel "attacks on the kingdom's territories by firing ballistic missiles towards Saudi cities, targeting Saudi border posts, and hampering aid operations."
The Saudi-led campaign in Yemen, which started in March, has been slammed by human rights organizations, while the UN said on December 23 that the kingdom should do more to try and implement the ceasefire.
"A failure to act decisively does not only spell misery for the millions of vulnerable people in Yemen today. It would inevitably push the country into an irreversible process of Balkanization, the consequences of which would lie outside of anyone's control," the UN High Commissioner for Human Rights Zeid Ra'ad Al Hussei said.
In October, airstrikes from the Saudi coalition hit a hospital run by Medecins Sans Frontieres (Doctors Without Borders) in Sadaa, despite patients and staff still being in the facility and the coalition knowing its location.
One of the deadliest attacks came in late September as two missiles hit a wedding party in the south of Yemen. The UN estimated that 135 people died in the attack. Many of the dead were women and children, witnesses said.
Meanwhile, Yemeni Foreign Minister Abdulmalik Mekhlafi told RT in late December that the legitimacy of President Abd Rabbuh Mansur Hadi should not be brought into question.
Hadi was forced to briefly flee the country for Saudi Arabia amid rebel advances and requested assistance in tackling the rebels.
At least 5,800 people – nearly half of them civilians - have been killed in the conflict, which has seen the Saudi-led coalition and ground forces push the Houthis out of the southern port of Aden, which allowed President Hadi to return.
Overall more than 21 million people require some kind of humanitarian assistance to survive, with the airstrikes leaving some 2.5 million people internally displaced.
You can share this story on social media: