More than 1,000 fake life jackets found in raid on Turkish workshop staffed with Syrian children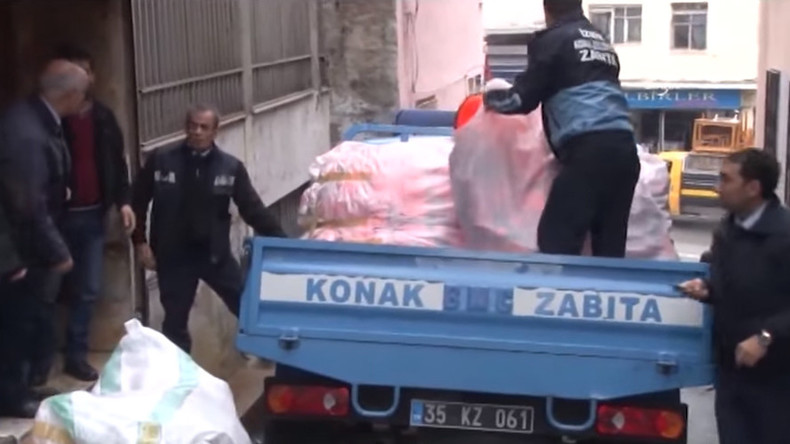 Turkey's black market economy is benefiting from the mass influx of Syrian refugees, with a raid on a life jacket manufacturing facility revealing the use of child labor along with hundreds of dangerous poor-quality vests.
Two children were discovered working in an illegal clothing workshop during a police raid in Turkey's İzmir province. The operation also uncovered the opportunistic aspect of the blackmarket economy where illegal manufacturing facilities make and then sell low-quality equipment designed to save people's lives.
Besides discovering the two young Syrian girls among the four employees working at the "factory", authorities seized 1,263 counterfeits of "renowned" life-jackets of various brands. Some of them were made of tent cloth with poor water resistance and filled with sponges and rags, rather than quality buoyancy material needed to keep potential victims afloat.
Izmir, which is a major hub for refugees trying to make it to the EU, has become a perfect market place for goods which don't meet required safety standards. According to local media, fake life-jackets are being sold for less than 30 Turkish lira ($10), compared to the 75 lira ($25) which one might pay for a decent-quality product at a proper store, which makes a big difference for impoverished migrants traveling with entire families.
The illegal manufacturing and sale of such poor quality goods has contributed greatly to the 3,771 deaths of those crossing the Mediterranean last year. In 2015 some 1,004,356 migrants reached Europe, according to the International Organization for Migration (IOM). Meanwhile, Turkey remains home to around 2.2 million Syrian refugees, only a portion of whom live in migrant camps.
You can share this story on social media: