UN human rights envoy to Palestinian Territories resigns over Israeli 'denial of access'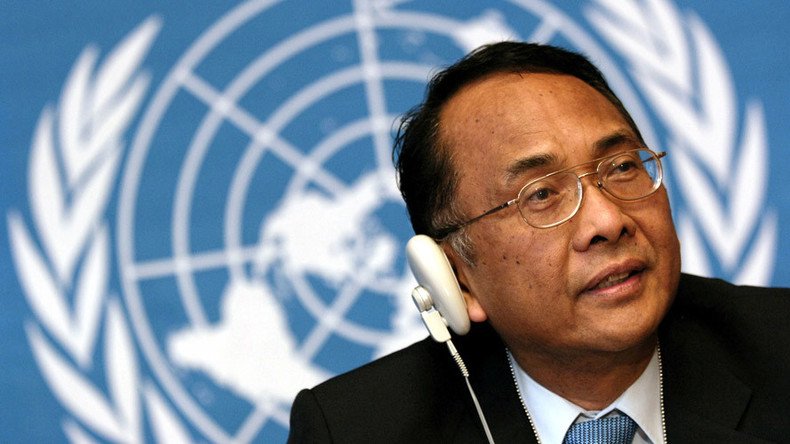 The UN Special Rapporteur on human rights in Palestine resigned Monday, citing frustration at Israel's denial of access to Palestinian territories.
Indonesian diplomat Makarim Wibisono said during his resignation that, "unfortunately, my efforts to help improve the lives of Palestinian victims of violations under the Israeli occupation have been frustrated every step of the way."
Wibisono said his applications for access both written and oral were repeatedly rejected. "With no reply from Israel to my latest request, in October 2015, to have access by the end of 2015, it is with deep regret that I accept the premise upon which I took up the mandate, which is to have direct access to the victims in the Occupied Palestinian Territory, will not be fulfilled," he said.
In contrast Wibisono praised his relationship with the Palestinian government saying they cooperated fully with him and called for Israel to cooperate in future for the sake of their own human rights credibility.
Wibisono isn't the first envoy to encounter difficulties with Israel. His predecessor Richard Falk's outspoken views on the treatment of Palestinians led to several calls for his resignation by Israel. In particular, he backed a boycott of Israeli companies allegedly exploiting Palestinian resources.
In recent reports Wibisono expressed concern at Israeli raids against the Hebron-based Youth Against Settlements in the occupied West Bank. Authorities have also called for its closure. Last month he said: "The Center has now effectively been shut down as a result of the Israeli military declaring the surrounding area a military zone."
In June, Wibisono called for the Gaza blockade to be lifted to help the region to recover. "The people deserve help and realization of their human rights, not collective punishment," he said.
Israeli Foreign Ministry spokesman Emmanuel Nachshon has questioned the need for a UN Special Rapporteur, justifying Wibisono's denial of access by calling his mandate "unfair and unbalanced" in June of last year.
Wibisono, the sixth person to hold the position, carried out most of his investigation from neighboring Amman.
Israel said the resignation was a result of the Wibisono's "unbalanced" mandate.
"The Mandate of the Special Rapporteur is clearly an unbalanced one. And so are the conduct of the Human Rights Council and the content of its resolutions. The Palestinians and their supporters in the Council enjoy an automatic majority leading to a one-sided and discriminatory performance of the Council and its various mechanisms," Israel's embassy in Geneva said as quoted by The Times of Israel.
"The human rights of Israelis are violated on a daily basis with full disregard by these organs. As long as this state of affairs persists, Israel's attitude will reflect it."
You can share this story on social media: