Catalonia fails to confirm Mas as official leader, independence push under threat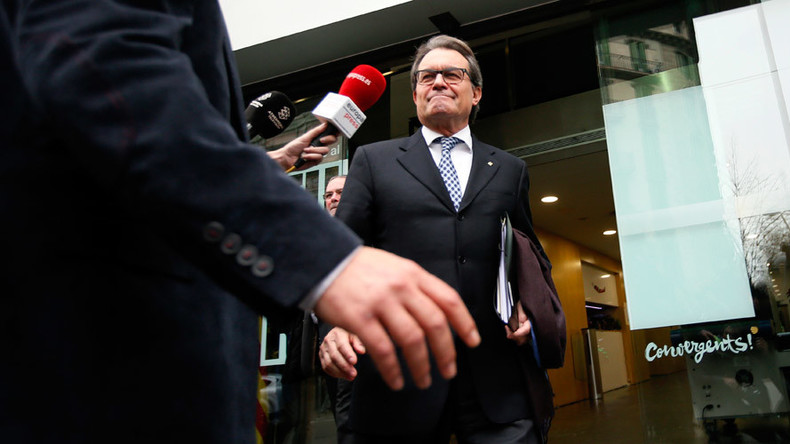 Catalonian pro-independence parties are at risk of missing the deadline to form a regional government after a key far-left group refused to back incumbent regional leader, Artur Mas, for reelection.
One of the wealthiest regions of Spain, Catalonia, has to name its regional president by January 10 or face a new local election.
Last September, Mas's ruling conservative Convergence party and the Republican Left of Catalonia teamed up under the 'Together for Yes' alliance to snatch 62 seats in the 135-seat Catalan parliament.
But the alliance still lacked a workable majority without the ten seats that were won by another pro-independence faction, the far-left Popular Unity Candidates (CUP) party.
In December, the parties supporting secession approved a resolution calling for the creation of an independent Catalan republic within 18 months, a move almost instantly blocked by Spain's Constitutional Court.
Following months of debate, CUP announced on Sunday that it will not back Mas's candidacy for president due to his austerity policies and links to corruption scandals.
"The independence movement has an absolute majority (within the region) but with this candidate... we cannot form a government," Sergi Saladie, CUP party member, said as cited by AFP.
However, the far-left party said that it is ready to work with another candidate put forward by 'Together for Yes'.
"We haven't got many days left, a week's margin for a move, if desired, to avoid elections," Anna Gabriel, CUP deputy leader, told Catalunya Radio.
READ MORE: Defiant Catalan leader vows to carry on with independence bid despite court block
But 'Together for Yes' has been refusing to name any other candidate except Mas, who was Catalonia's president since 2010.
The new election would be a setback in the Catalan push for independence from Spain, Mas said, but he added that he is ready to do battle, AP reported.
Convergence and the Republican Left are to hold a meeting later on Monday to discuss the situation around the presidential candidacy.
On Sunday, Republican Left deputy, Joan Tarda, posted a controversial tweet, suggesting that "If Mas steps aside and lets another party member opt for presidency, we can form a government and the independence process goes forward."
Catalonia is a northeastern region of Spain, which has a population of 7.5 million people and represents nearly a fifth of the country's economic output.
According to the polls, most Catalans support the idea of a referendum on independence, but are divided over secession from Spain.
The Spanish government in Madrid has ruled out the possibility of Catalonia's independence, labeling the push for it illegal.
You can share this story on social media: