Collective punishment or deterrent? IDF demolishes, seals off attackers' homes in Jerusalem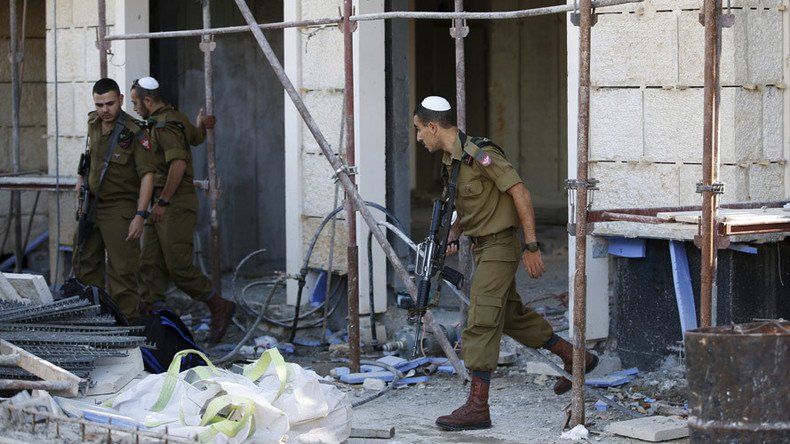 The Israeli military has demolished the homes of two Palestinians involved in deadly attacks against Israelis in Jerusalem last year, saying bulldozing is an effective tool to "deter" attacks. Rights groups say the demolitions are collective punishment.
One attacker, a Palestinian named Bahaa Elayan, had opened fire on passengers on a bus in October, killing three people. On the same day, another attacker, Alaa Abu Jamal, rammed his car into pedestrians and then stabbed people, killing one, according to AP.
Although both attackers were shot and killed on the spot, the decision to demolish their homes was approved by Israel's High Court of Justice in December, Israeli news outlets report.
On Monday morning, Israeli Defense Forces (IDF) troops entered Jabel Mukaber, the East Jerusalem neighborhood where the attackers' homes were located. Before the destruction began, the military and police set up road blocks at some entrances to the neighborhood, according to The Times of Israel. The home of Allyan was demolished and the home of Abu Jamal was sealed off with concrete.
The Gaza-based Palestinian Center for Human Rights (PCHR) said in a report that before the demolition Israeli forces raided Abu Jamal's home, and his family was given an order to vacate the house in 48 hours "on the grounds of collective punishment."
In the same report, PCHR said, "Israeli forces continued to impose collective punishment measures on the Gaza Strip, which have escalated since the 2006 Palestinian parliamentary elections, in which Hamas won the majority of seats of the Palestinian Legislative Council."
Home demolitions as a part of collective punishment are strictly prohibited under laws of armed conflict that regulate treatment of civilian population on enemy-held territories. In 1967, West Bank, including East Jerusalem, was captured by the Israelis during the Six-Day War. It remains under Israel's military control until present days, while the International Court of Justice has said in its 2004 ruling those territories can be called "occupied" under customary international law, and Israel has therefore a status of occupying power.
"Gaza Strip and the West Bank, including East Jerusalem, are still under Israeli occupation," the RCHR's report maintained, referring to the 1949 Geneva Conventions that obliges all the signatories – including Israel as an occupying power – to protect the civilian lives and safety of non-military objects at all times.
READ MORE: Palestinians file new evidence of Israeli 'war crimes' to International Criminal Court
An Israel-based human rights center B'Tselem claims since 2004 in East Jerusalem alone 579 homes were demolished and 2,133 people left homeless, including 1,158 minors.
In October 2015, Palestinian officials said the new files documenting alleged war crimes committed by Israel were submitted to the International Criminal Court (ICC), the only supranational judicial body mandated to impose personal responsibility on war criminals. The 52-page file submitted to the ICC contains details of alleged "summary executions, collective punishments, house demolitions and ethnic cleansing," Saeb Erakat, member of the Palestinian parliament said in a statement as cited by AFP.
Palestine joined the ICC in April and already handed over two files documenting alleged Israeli crimes during 2014 Israeli Operation Protective Edge as well as Israel's occupation of the West Bank and East Jerusalem.
You can share this story on social media: