Palestinians file new evidence of Israeli 'war crimes' to International Criminal Court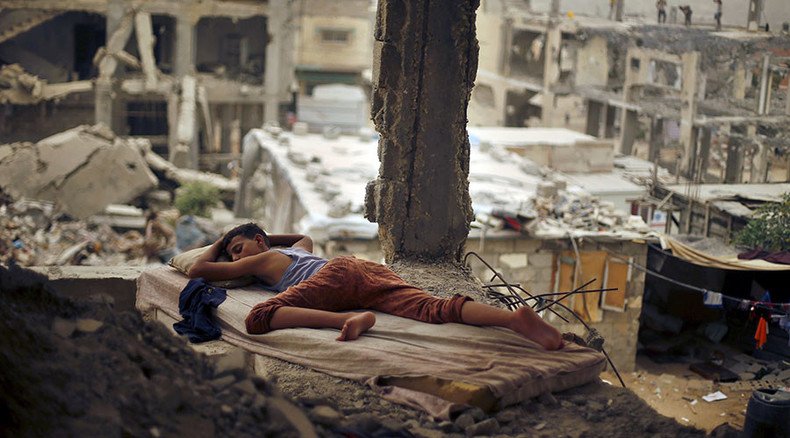 A Palestinian delegation headed by Mahmoud Abbas has submitted new documents it claims prove Israeli war crimes to the International Criminal Court (ICC). They allege that ethnic cleansing, house demolitions and collective punishment have taken place.
Palestinian president Mahmoud Abbas as well as Palestinian foreign minister Riad Malki met with ICC prosecutor Fatou Bensouda on Friday.
"(We took) also examples of cases that have really occurred in the last 40 days of Israeli aggression against innocent Palestinians around occupied territory," Malki said after the meeting as cited by Reuters.
The 52-page file submitted to the ICC contains details of alleged "summary executions, collective punishments, house demolitions and ethnic cleansing," Saeb Erakat, member of the Palestinian parliament said in a statement as cited by AFP.
It "gathers all the information on the Palestinian martyrs and their identities, the way in which they were executed, and is backed by verified photos and videos," Erakat added.
Palestine joined the ICC in April and already handed over two files documenting alleged Israeli crimes to the court. The first file contained facts about the 2014 Israeli Operation Protective Edge in the Gaza Strip which killed more than 2,000 Palestinians. The other one dealt with Israel's occupation of the West Bank and East Jerusalem.
The ICC launched a preliminary inquiry into the Gaza conflict to reveal whether crimes perpetrated by both sides are enough to start a full-scale investigation.
READ MORE: 'ICC faces credibility test over Israeli war crimes investigation in Gaza'
"Achieving justice is essential for the Palestinian victims, dead and alive," said Malki back in June. "Palestine has chosen to seek justice, not vengeance."
Israel is not a member of the ICC and refuses to cooperate with its inquiries saying that Palestine is not a state and therefore has no right to be an ICC member.
You can share this story on social media: