Charlie Hebdo publishes special edition 1 year after deadly attacks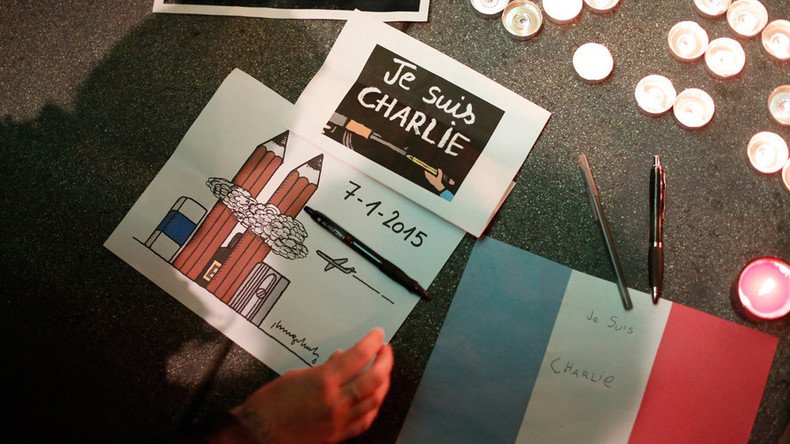 The French satirical magazine Charlie Hebdo plans to release a 32-page edition, twice its average size, to mark a year from when the Kouachi brothers attacked the magazine's Paris headquarters on January 7, 2015, killing 12 people.
The magazine will go on sale January 6 for its usual cover price of 3 euros (just over $3). Charlie Hebdo's CFO, Eric Portheault, has said he expects nearly 1 million copies will be sold, with numerous orders from other countries already in place: Germany, for example, has put in a request for 50,000 copies.
READ MORE France among top 3 deadliest countries for journalists in 2015
The January issue will contain messages of support and drawings by Charb, Honoré, Cabu, Wolinski, Tignous, the artists who were killed in the 2015 attack, as well as by cartoonists currently working at Charlie Hebdo.
Before the attack, the weekly satirical magazine was experiencing serious financial difficulties, selling about 30,000 copies a week. Those numbers soared dramatically after the attack: the issue published a week after the attack, with a figure depicting the Prophet Mohammed holding a "Je suis Charlie" ("I am Charlie") sign, sold 7.5 million copies.
Currently the magazine sells 100,000 copies in newsstands on average.
The magazine often courted controversy before the attack, and this has not changed. In January 2015, following the attack, a Charlie Hebdo issue published by the "survivors" triggered a week of protests from Muslim communities all over the world, with thousands of worshipers calling for their religion to be respected.
READ MORE 'Death to blasphemers': Muslims protest new Charlie Hebdo cartoons across the globe
The deadly January attacks on the office prompted the now famous #JeSuisCharlie hashtag, which was picked up by social media users to show their solidarity with Charlie Hebdo, bringing the once marginalized satirical magazine to a much wider audience.
There is a thin line between love and hate, however, and solidarity turned to rage when Russian internet users adopted the #JeNeSuisPasCharlie ("I am not Charlie") hashtag, following a cartoon the magazine published on the topic of Russia's A231 plane crash, caused by a terror attack, which killed 224 people.
READ MORE 'Je ne suis PAS Charlie': Russians respond to Hebdo plane crash caricatures with own drawings
But perhaps Hebdo's most controversial caricature to date, the one that has upset people the most, is that of little Aylan Kurdi, the three-year-old Syrian boy who drowned during his perilous journey across the Mediterranean, trying to reach the Greek island of Kos.
One of the cartoons, dubbed "Welcome, migrants," features a gruesome picture of the drowned three-year-old lying face down on the beach. "So close to the goal," the caption reads in French.
READ MORE: JeSuisCharlie now? Social media outrage at the cartoon mocking death of Syrian toddler Aylan Kurdi
You can share this story on social media: